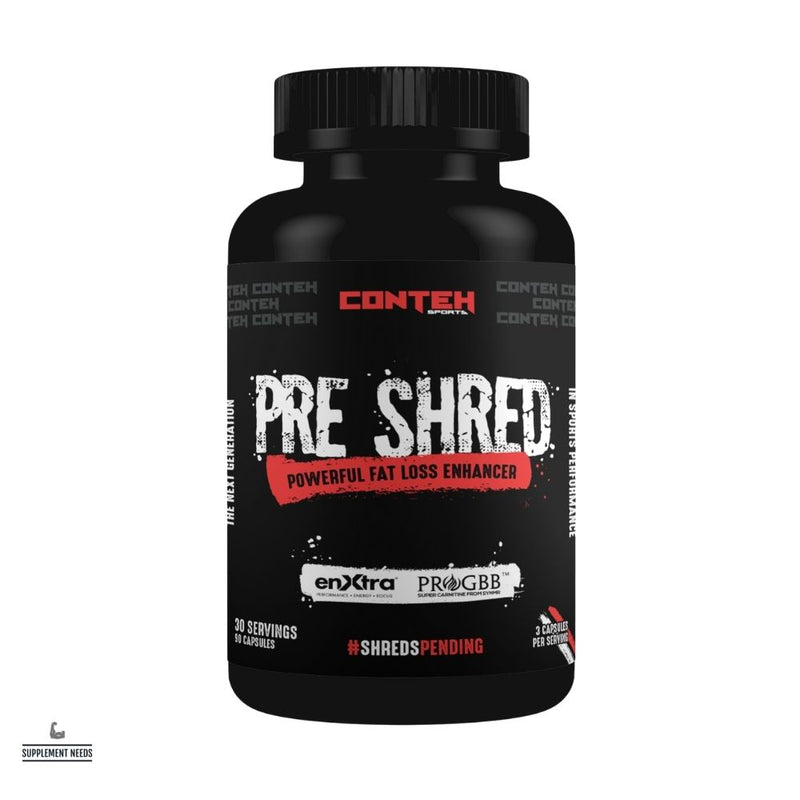 Conteh Sports Pre Shred - 30 Servings
Description
Conteh Sports Pre Shred is a non-proprietary supplement designed to support weight loss and increased energy output.
Formulated using 8 ingredients – Caffeine Anhydrous, Rhodiola Rosea, ENXtra, Citrus Aurantium, Eria Jarensis 10:1 Extract, Hordenine, Grains of Paradise 12.5% 6-paradol, and ProGBB Gamma-butyrobetaine Ethyl Ester Chloride
Available from Supplement Needs in a 90 capsules tub.
Directions for Use
1 serving (3 capsules) to be taken upon wake.
Tolerance should be assessed with 1 capsule to begin.
Do not exceed the recommended daily intake.
Nutritional Information
Size: 90 capsules
Serving Size: 3 capsules
Servings: 30
Per 3 capsule serving:
Caffeine Anhydrous                                   350mg
Rhodiola Rosea                                          300mg
ENXtra®                                                    300mg
Citrus Aurantium                                       150mg
Eria Jarensis® 10:1 Extract                        150mg
Hordenine                                                 150mg
Grains of Paradise 12.5% 6-paradol          100mg
PRO GBB™                                                 50mg