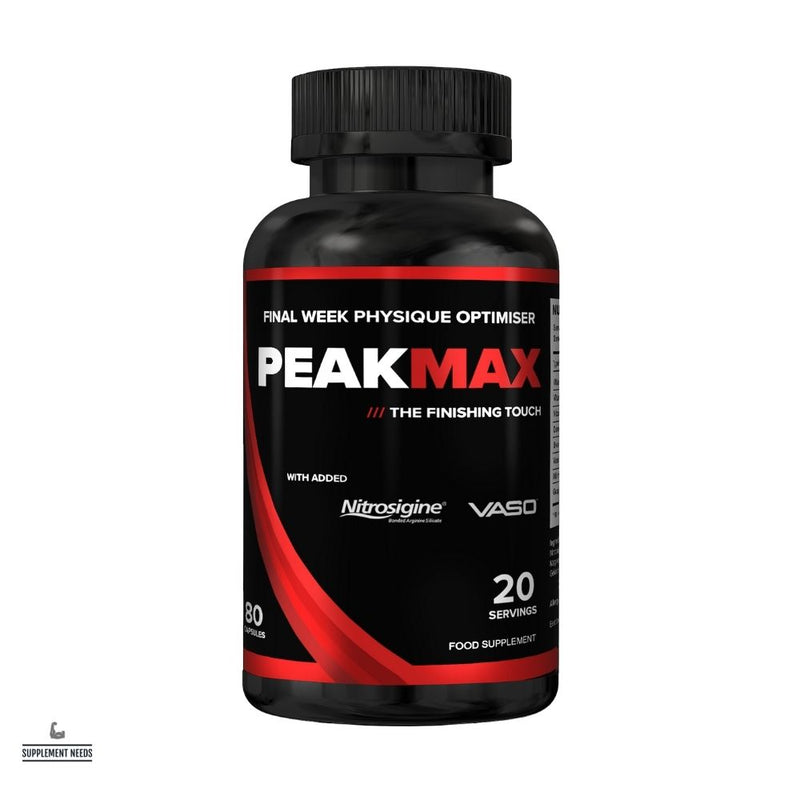 Strom Sports PeakMax - 20 Servings
Description
Strom Sports Nutrition PeakMax is a non-proprietary water loss and prep peak optimisation product, designed to be used prior to any event in which water manipulation is required.
Formulated using Dandelion Root, Uva Ursi, Vaso6, Nitrosigine, Grape See Extract and Vitamins C, B6 and B12.
Available from Supplement Needs in a 80 capsules tub.
Directions for Use
1 serving (4 capsules) may be taken up to 4 times per day, building the dosage over a 4-6 day period.
Do not exceed the recommended serving size.
Do not use for more than one week without a break.
Nutritional Information
Size: 80 Capsules  
Serving Size: 4 Capsules
Servings: 20
Per Serving (4 Capsules)
Vitamin C - 1000mg 
Vitamin B6 - 50mg 
Vitamin B12 - 24μg 
Dandelion Root Extract - 500mg 
Uva ursi - 500mg 
Vaso6® - 500mg 
Nitrosigine™ - 500mg 
Grape Seed Extract - 200mg 


Ingredients: Ascorbic Acid, Dandelion root, Uva Ursi, Vaso6®, Nitrosigine™, Grapeseed Extract, P-5-P, Vitamin B12, Magnesium Stearate (Vegetable derived), Cellulose Powder. Gelatin Capsule.