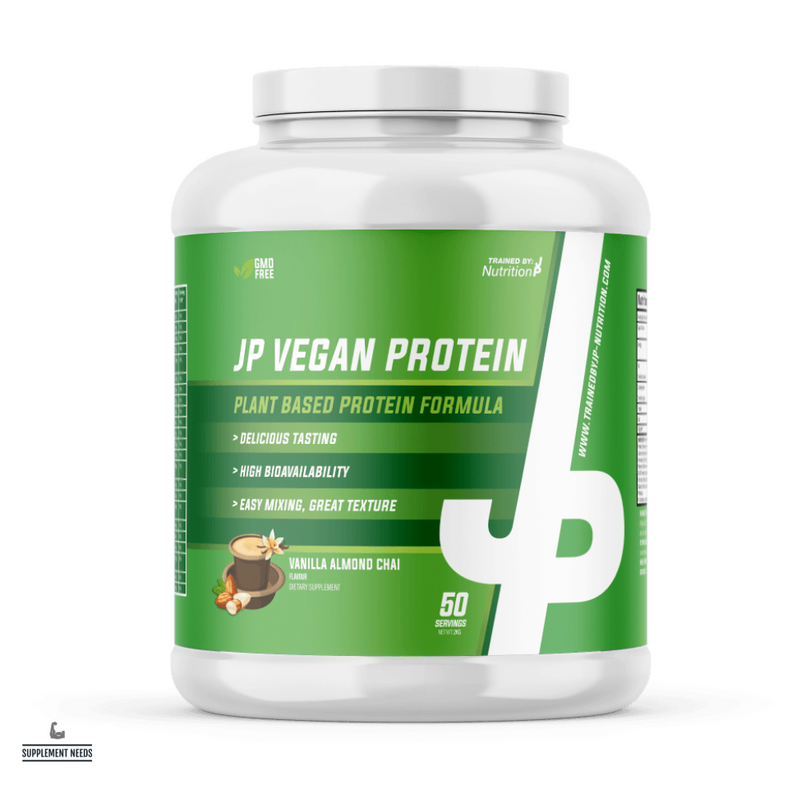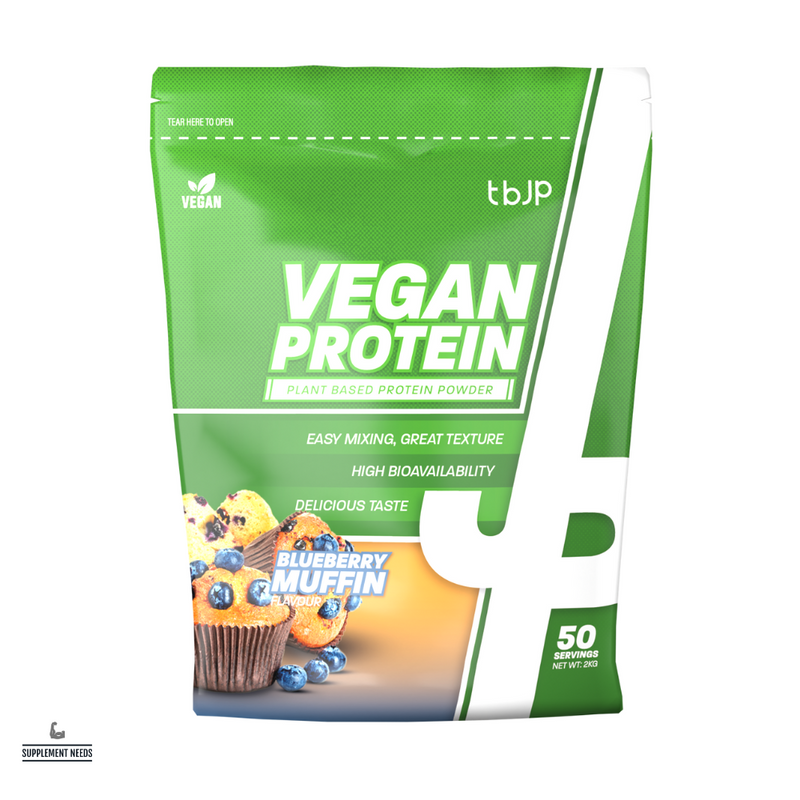 Trained By JP Nutrition Vegan Protein - 2kg
Description
TrainedbyJP Nutrition Vegan Protein is a plant based blend designed to be taken to support daily protein intake.
Formulated to yield 75% protein (30g per 40g).
The plant protein blend consists of Micronised Pea Protein, Sunflower Protein (SOY) and Pumpkin Protein
Available from Supplement Needs in 3 flavours – Chocolate Caramel Nut, Vanilla Almond Chai, Banoffee Sundae 
Directions for Use
1 serving (40g) to be mixed with 250-400ml water and consumed.
Nutritional Information
Size: 2kg
Serving Size: 1 Flat Scoop (40g)
Servings: 50
Per 40g Serving: 
657kJ / 157kcal
30g Protein
2.8g Fat
0.5g of which Saturates
2.8g Carbohydrates
0.2g of which Sugars
0.8g Salt
Digezyme 20mg
Ingredients: Plant Based Protein Blend (Micronised Pea Protein, Sunflower Protein (SOY), Pumpkin Protein), Flavouring, Vegan Multivitamin Blend (Potassium Chloride, Magnesium Phosphate, Calcium Carbonate, Sodium Chloride, Dicalcium Phosphate, Maltodextrin, Ascorbic Acid, Ferrous Fumarate, DL Alpha Tocopherol Acetate, Zinc Aspartate, Nicotonic Acid, Bladderwrack Extract 5:1, Vitamin A Retinol Acetate, Magnesium Citrate, Calcium D-Pantothenate, Copper Sulphate, Vitamin D2 Oil Powder (Ergocalciferol), Pyridoxine HCL, Thiamin HCL, Riboflavin, Chromium Picolinate, Folic Acid, Sodium Selenite Anhydrous, D-Biotin, Cyanoconalamin), Thickener (Xantham Gum), Sodium Chloride, Sweetener (Sucralose), Digezyme (Amylase, Cellualse, Lactase, Lipase and Neutral Protease
Allergens in bold.