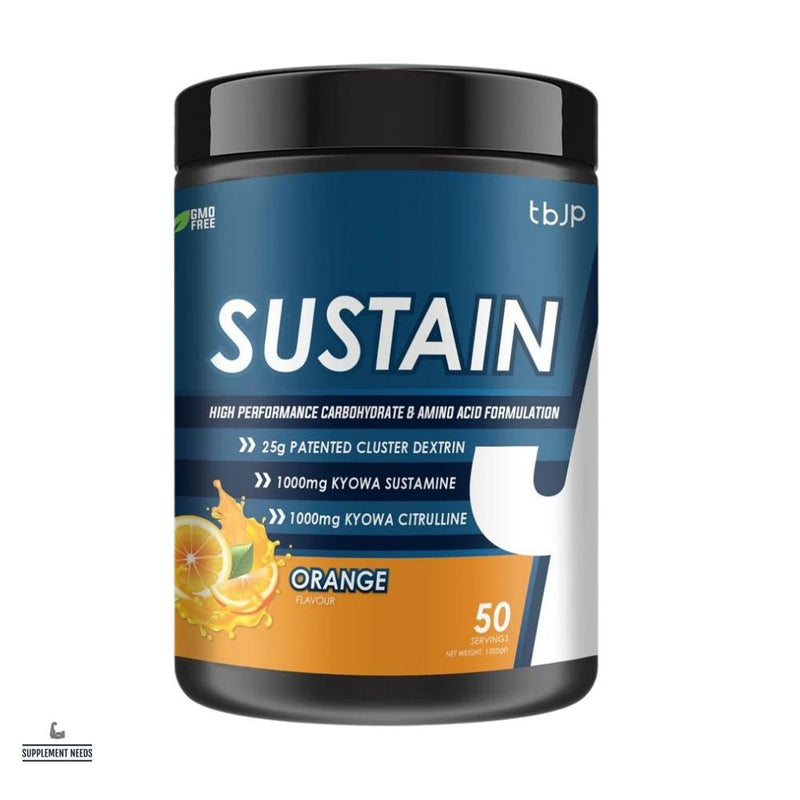 Trained By JP Nutrition Sustain Intra - 50 Servings
Description
TrainedbyJP Nutrition Sustain Intra is a non-proprietary carbohydrate based supplement designed to be taken to support your daily nutrition intake.
Formulated using Cluster Dextrin trademarked Highly Branched Cyclic Dextrin, Sustamine trademarked L-Alanyl-L-Glutamine, Kyowa L-Citrulline, Creatine Monohydrate, Betaine Anhydrous, Alpha Lipoic Acid and an Electrolyte blend of Sodium, Potassium and Magnesium.
JP Sustain Intra has been designed to be stacked alongside JP EAA; to create a productive intra-workout stack.
Available from Supplement Needs in 1 flavour – Orange 
Directions for Use
 Mix 1 serving (30g) with 300-500ml water and consume 20-30 mins whilst training.
Nutritional Information
Size: 1500g
Serving Size: 1 Scoop (30g)
Servings: 50
Per 30g Serving:
25g Cluster Dextrin™ (Patented Cyclic Dextrin)
1000mg Sustamine™ (Patented L-Alanyl-L-Glutamine)
1000mg Kyowa Quality® L-Citrulline
500mg Creatine Monohydrate
500mg Betaine Anhydrous (Trimethylglycine)
100mg Alpha Lipoic Acid
Electrolyte blend:
600mg Potassium
500mg Sodium
113mg Magnesium