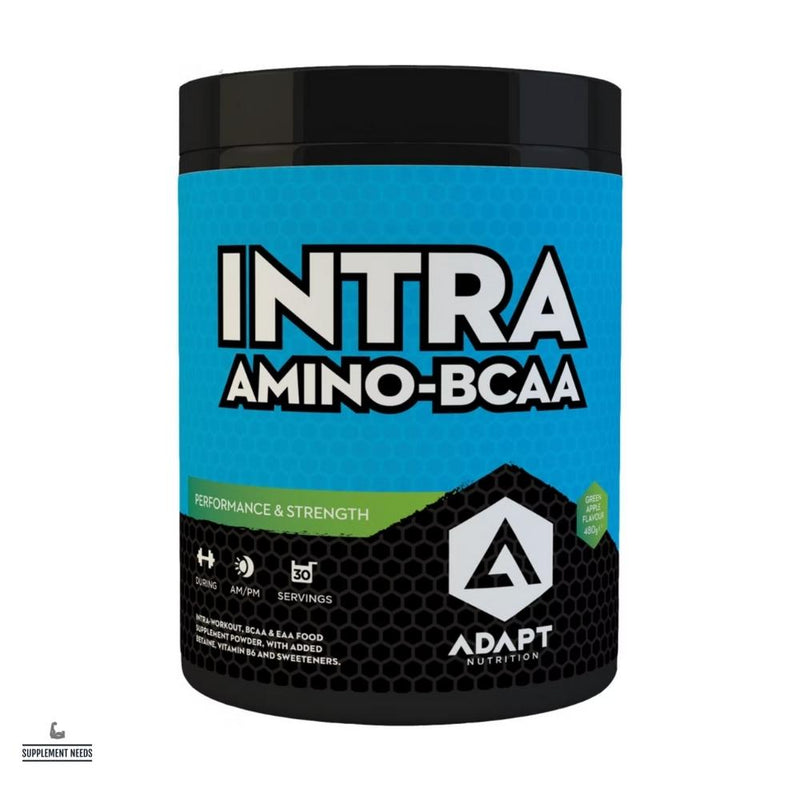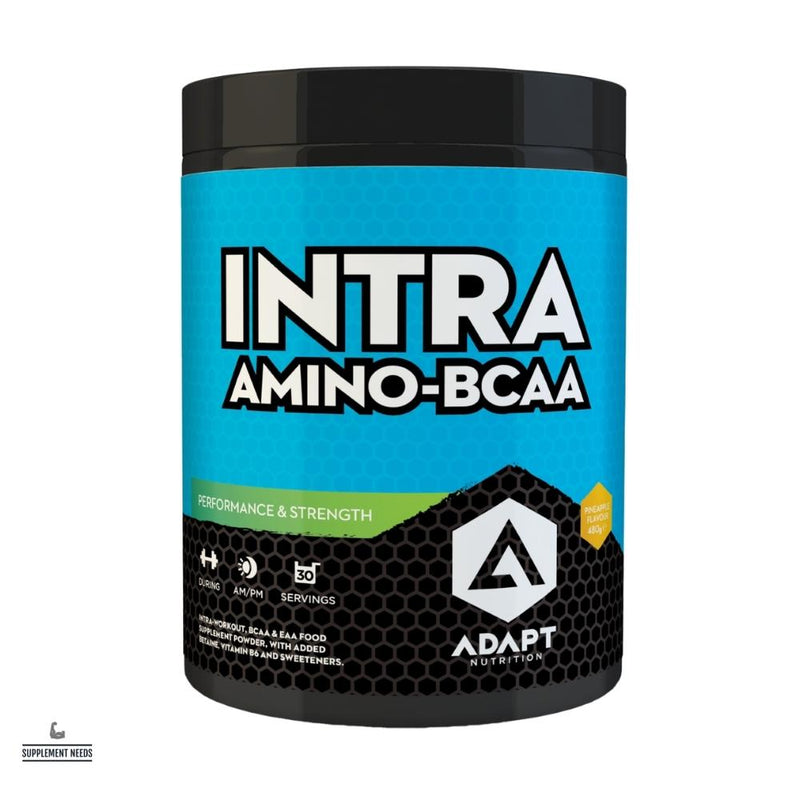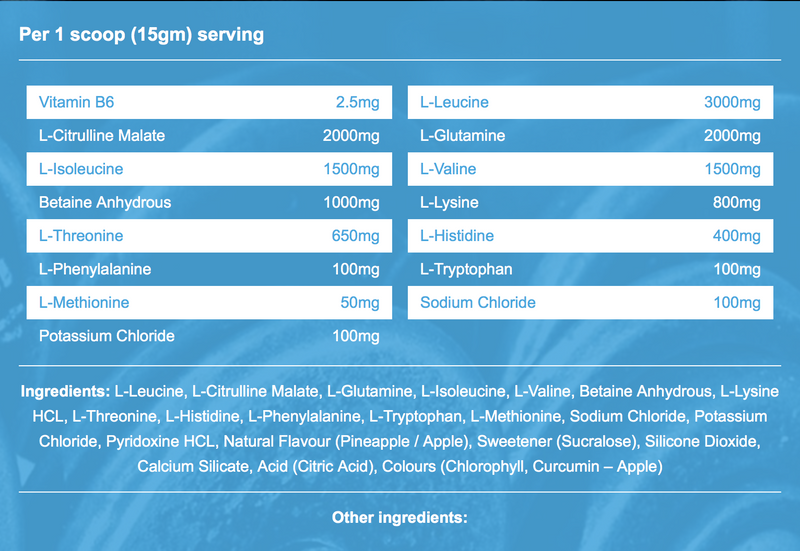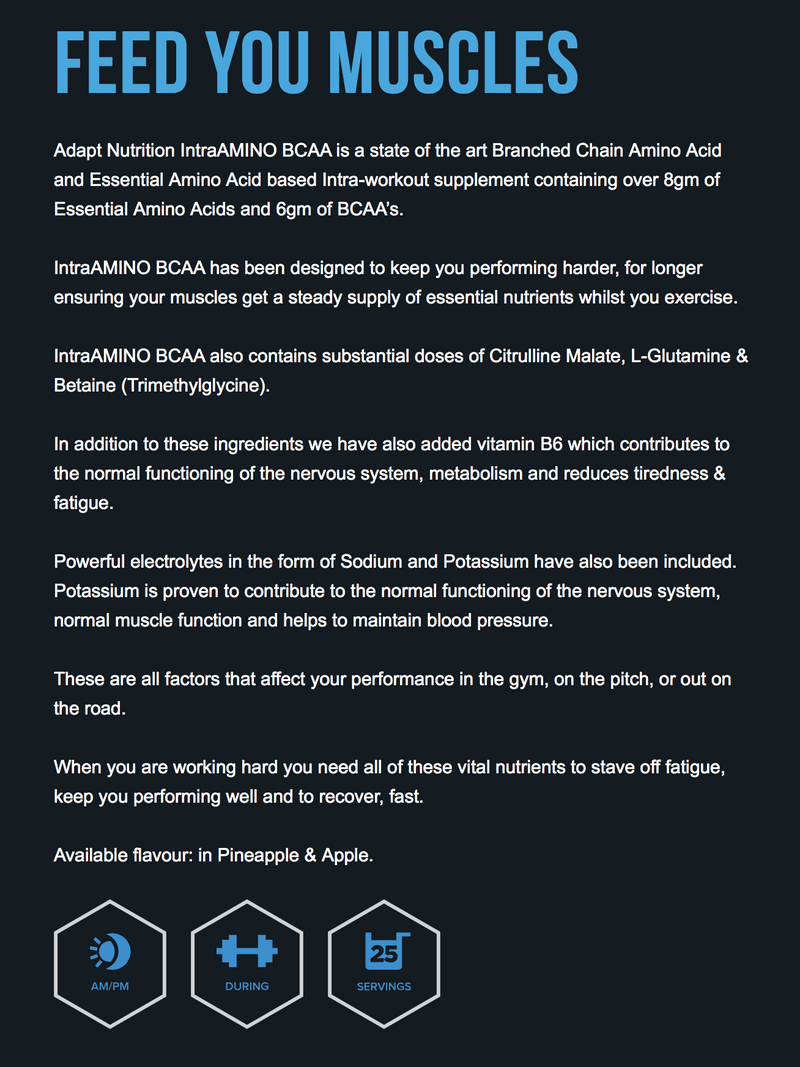 Adapt Nutrition Intra Amino BCAA - 480g
Description
Adapt Nutrition Intra Amino BCAA is a non-proprietary Essential Amino Acid supplement designed to be taken to support your daily protein intake.
Formulated using all 9 Essential Amino Acids, yielding 8.1g per 15g serving; of which 3g L-Leucine, 1.5g L-IsoLeucine, 1.5g L-Valine. 1g of Glutamine, 1g of Betaine Anhydrous, 2g of Citrulline Malate, Vitamin B6 and Electrolytes Sodium and Potassium complete the panel.
Intra Amino BCAA has been designed to be stacked alongside Createc 1500
Available from Supplement Needs in 2 flavours – Green Apple and Pineapple.
Directions for Use
Mix 1 serving (15g) with 500-700ml water and consume.
Nutritional Information
Size: 480g
Serving Size: 15g (1 Scoop)
Servings: 30
Per 15g Serving (1 Scoop):
L-Citrulline Malate - 2000mg

L-Isoleucine - 1500mg
Betaine Anhydrous - 1000mg
L-Threonine - 650mg
L-Phenylalanine - 100mg
L-Methionine - 50mg
Potassium Chloride - 100mg
L-Leucine - 3000mg
L-Glutamine - 2000mg
L-Valine - 1500mg
L-Lysine - 800mg
L-Histidine - 400mg
L-Tryptophan - 100mg
Sodium Chloride - 100mg
Potassium Chloride - 100mg
Vitamin B6 - 2.5mg
Ingredients: 
L-Leucine, L-Citrulline Malate, L-Glutamine, L-Isoleucine, L-Valine, Betaine Anhydrous, L-Lysine HCL, L-Threonine, L-Histidine, L-Phenylalanine, L-Tryptophan, L-Methionine, Sodium Chloride, Potassium Chloride, Pyridoxine HCL, Natural Flavour (Pineapple / Apple), Sweetener (Sucralose), Silicone Dioxide, Calcium Silicate, Acid (Citric Acid), Colours (Chlorophyll, Curcumin – Apple)