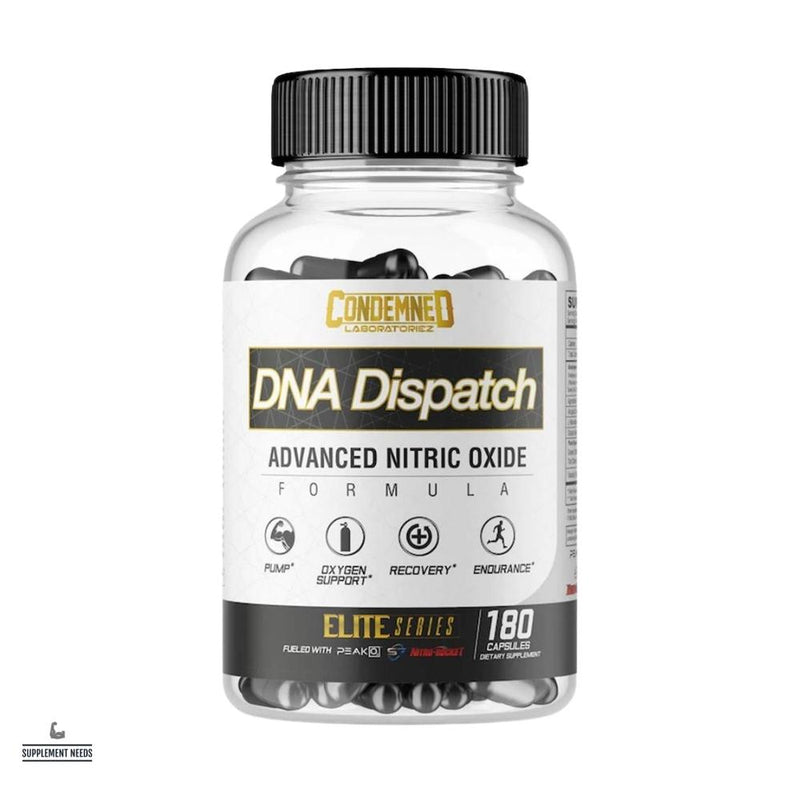 Condemned Labz DNA Dispatch - 180 Capsules
Description
Condemned Labz DNA Dispatch is a non-proprietary supplement to support oxygen and nutrient delivery.
Formulated using Cordyceps, AgmaPure Agmatine Sulfate, L-Carnosine, Glycocarn, L-Norvaline, Beetroot Powder, CoEnzyme Q10 and Vanadyl Sulfate.
DNA Dispatch has been designed to be stacked alongside Confined EAA / BCAA and Convict Stim.
Available from Supplement Needs in a 180 capsules tub.
Directions for Use
1 serving (6 capsules) to be taken 30-45 minutes before training
Nutritional Information
Size: 180 Capsules 
Serving Size: 6 Capsules
Servings: 30
Per 6 Capsule Serving:
Organic Cordyceps Militaris - 1000 mg  
Agmapure - 1000 mg  
L-Carnosine - 500 mg  
Glycocarn - 400 mg  
L-Norvaline - 250 mg  
Beet Root Powder - 250 mg  
CoQ10 - 50 mg  
Vanadyl Sulfate - 15 mg  
Other Ingredients:  
Gelatin, magnesium stearate, silicon dioxide.