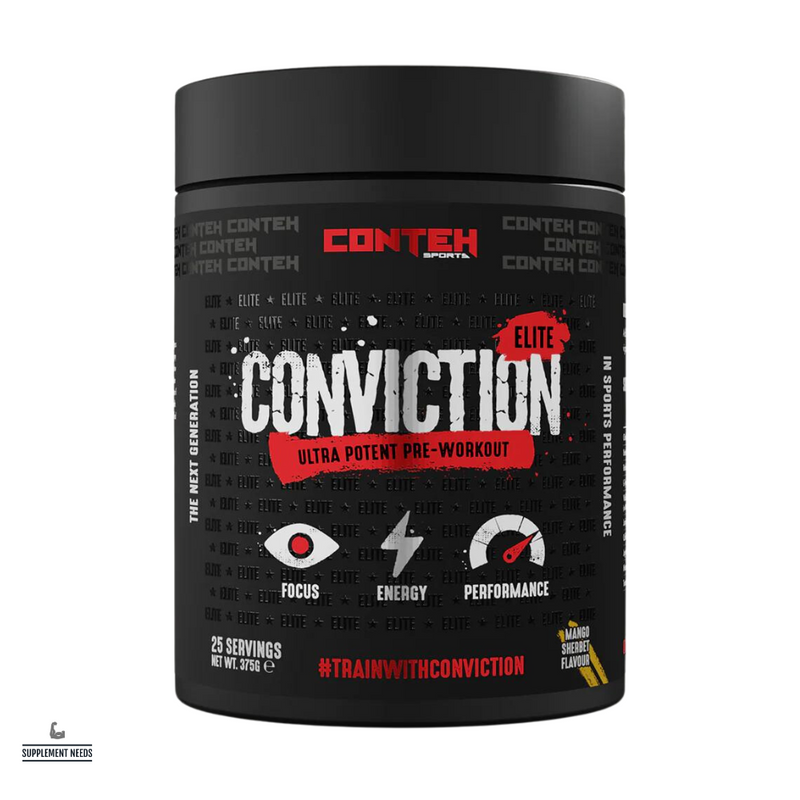 Conteh Sports Conviction Elite - 25 Servings
Description
Conviction Elite is Conteh Sports most powerful pre workout to date! It's made for the elite performers. It's for those of you that want to surpass your natural limits in the gym. Train harder for longer with Conviction Elite, our high dose, focus formula.
Conviction Elite ramps up many of the original Conviction ingredients to give extreme energy, skin splitting pumps and a concentrated mind-muscle connection.

With a blend of highly dosed ingredients to enhance energy and focus. Conviction Elite will take your training to the next level and push you beyond your limits.

Conviction Elite is not for the faint hearted, the effects are felt instantly!
Directions for Use
 Mix 1 serving (16g) with 200-300ml water and consume 20-30 mins before training.
Nutritional Information
Size: 375g
Serving Size: 16g
Servings: 25 
Per 1 Scoop Serving (16g) 
Citrulline Malate                6000mg
Beta Alanine                       3200mg
Betaine Anhydrous            2500mg
L-Tyrosine                           1500mg
VitaCholine                         600mg
(As Choline Bitartrate)
Juniper Berry Extract        400mg
Caffeine Anhydrous           350mg
Juglans Regia                     200mg
(Whole Fruit)
Mucuna Pureins Extract    200mg
Teacrine                               150mg