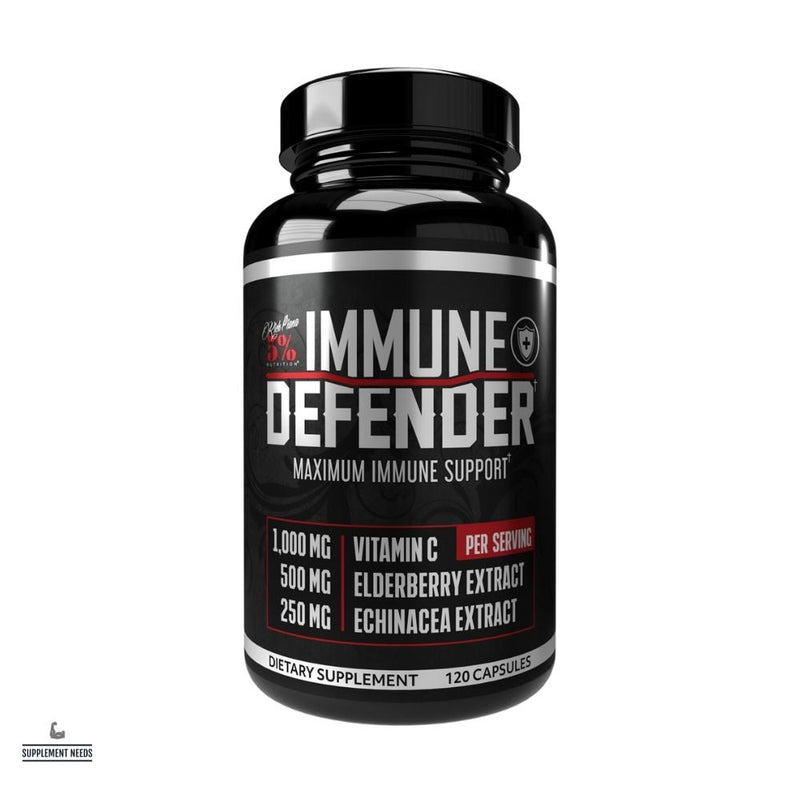 Rich Piana 5% Nutrition Immune Defender - 120 Capsules
Description
Rich Piana 5% Nutrition Immune Defender is a non-proprietary supplement designed to be taken to support daily health and immune function.
Formulated using Vitamin C and D, Zinc, Elderberry Extract, Reishi Mushroom, Echinacea Extract, Tumeric Powder, Olive Leaf Extract, N-Acetyl-Cysteine, Ginger Root Extract and Odorless Garlic Extract.
Available from Supplement Needs in a 120 capsules tub.
Directions for Use
1 serving (2 capsule) to be taken twice daily.
Nutritional Information
Size: 120 capsules
Serving Size: 4 capsules
Servings: 30
Per serving (4 capsules): 

Vitamin C (as Ascorbic Acid) 1000mg
Vitamin D (as Cholecalciferol) 125mg
Zinc (as Zinc Citrate) 30mg
Elderberry Extract (Sambucus nigra L.)(fruit) 500mg
Reishi Mushroom (Ganoderma lucidum)(fruit body) 400mg
Echinacea Extract 4:1 (Echinacea purpurea)(aerial) 250mg
Turmeric Powder (Curcuma longa)(root) 105mg
Olive Leaf Extract (20% Oleuropein)(Olea europaea L.) 50mg
N-Acetyl L-Cysteine 50mg
Ginger Root Extract (5% Gingerols)(Zingiber officinale Roscoe) 50mg
Odorless Garlic Extract 4:1 (Allium sativum L.)(garlic bulbs) 25mg