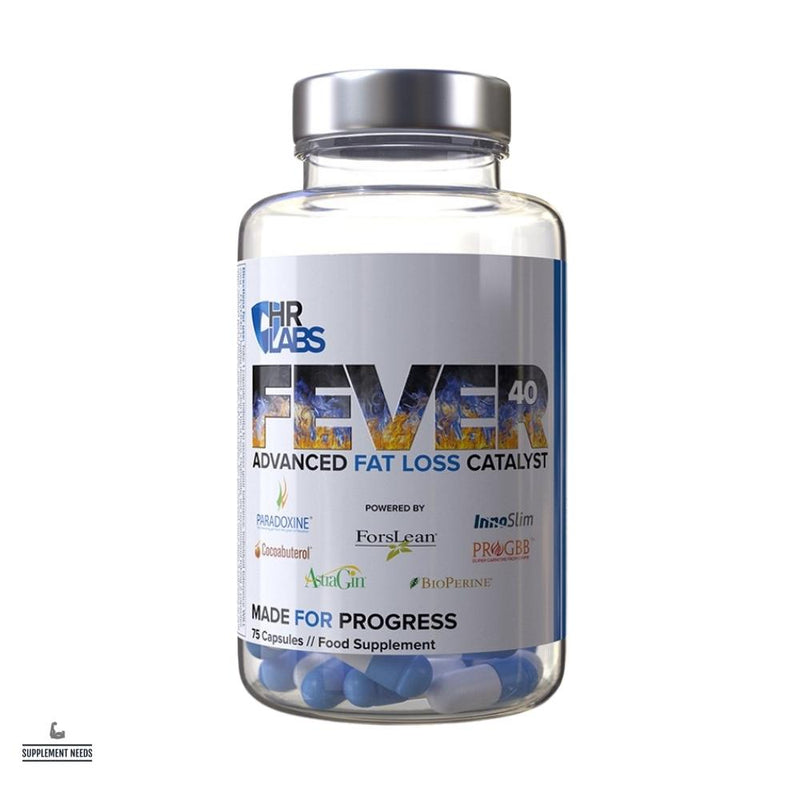 HR Labs Fever 40 - 75 Capsules
Description
HR Labs Fever 40 is a non-proprietary supplement designed to support weight loss and increased energy output.
Formulated using 16 ingredients – Caffeine Anhydrous, Eria Jarensis Extract, Forslean trademarked Coleus Forskholii Extract, Cocoabuterol trademarked Theobroma Cacao Extract, InnoSlim trademarked Astragalus Membranaceus & Panax Notoginseng, Pro GBB trademarked Gamma-Butyrobetaine Ethyl Ester, Astragin and Bioperine.
Available from Supplement Needs in a 75 capsules tub.
Directions for Use
1 serving (2 capsule) to be taken upon wake.
Tolerance should be assessed with 1 capsule to begin.
Optimally, 2 capsules to be taken upon wake, followed by 1 capsule 6-8 hours later.
Do not exceed the recommended daily intake.
Allergen Advice: Manufactured in a facility that also handles Cereals including Gluten, Egg, Soya and Milk.
Not suitable for Vegetarians, Halal Certified.
Not suitable for drug tested athletes 'In Competition' Ref: WADA prohibited List
Warning: Food supplements should not be used as a substitute for a varied, balanced diet. Consult your doctor prior to use if you are taking any medication or suffer from any pre-existing medical conditions. Not recommended for use by anyone under 18 years of age. 
Nutritional Information
Size: 75 Capsules
Serving Size: 3 Capsules
Servings: 25
Ingredients:
InnoSlim (Astragalus Membranaceus & Panax notoginseng), Caffeine Anhydrous, Eria Jarensis Extract, Forslean® (Coleus Forskholii Extract - 12% Forskolin), Paradoxine® Grains of Paradise Extract (Aframomum Melegueta), Cocabuterol® (Theobroma cacao Extract), L-Theanine, Hordenine HCL, Bitter Orange Peel Extract, Pro GBB™ (Gamma-Butyrobetaine Ethyl Ester Chloride), Astragin (Astragalus Membranaceus & Panax notoginseng), Bioperine® (Black Pepper Extract) , Vitamin B6 (Pyridoxine Hydrochloride), Vitamin B12 (Cyanocobalamin), Bulking Agent (Brown Rice Flour), Flowing Agent (Silicone Dioxide), Anti Caking Agent (Magnesium Stearate), Bovine Gelatine Capsule Shell (Contains Colouring's Titanium Dioxide & FD&C Blue2)