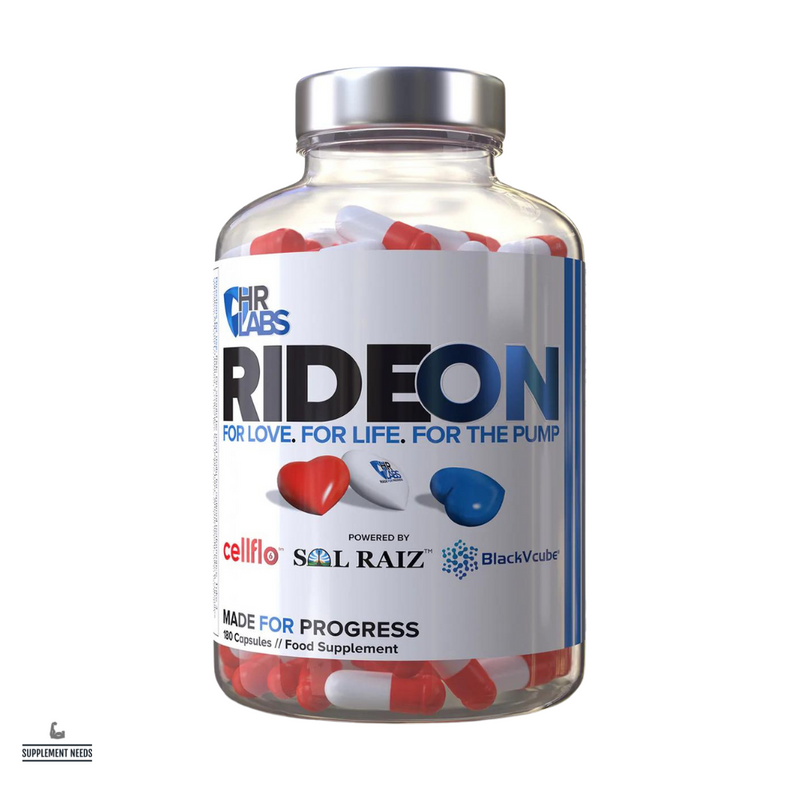 HR Labs Ride On - 180 Capsules
Description
HR Labs Ride On is a non-stimulant pump based pre-workout supplement designed to take vasodilation to a new level.
Formulated using CellFlo6 trademarked Green Tea Leaf Extract, Blackvcube trademarked Black Ginger Extract, Pomegranate Extract standardised to 30% Punicalagins, Sol Raiz trademarked Gelatinized Maca Root Powder, Astragin and Bioperine.
Available from Supplement Needs in a 180 capsules tub. 
Directions for Use
1 serving (3 capsules) to be taken upon wake and a further 2 capsules 6-8 hours later.
Alternatively 6 capsules may be taken 45 minutes before training.
Allergens: Manufactured in a facility that also handles Cereals including Gluten, Egg, Soya and Milk.
Suitable for Vegetarians & Vegans, Halal Certified.
Nutritional Information
Size: 180 Capsules
Serving Size: 6 Capsules
Servings: 30
Ingredients:
Pomegranate Extract (fruit) 15:1 ratio, standardised to 30% Punicaligins, Sol Raiz™ gelatinized maca root powder (Lepidium Peruvianum Chacon), CellFlo6™ (Green Tea (Camellia sinensis) Leaf Extract), Blackvcube® Black Ginger Extract (Kaempferia Parviflora, minimum 20% polymethoxyflavones), Astragin™ (Astragalus Membranaceus & Panax notoginseng extract), Bioperine® (Black Pepper Extract), Flowing Agent (Silicone Dioxide), Anti Caking Agent (Magnesium Stearate), Bovine Gelatine Capsule Shell (Contains Colouring's Titanium Dioxide, Yellow & Red Iron Oxide & Azorubine - Carmoisine).)