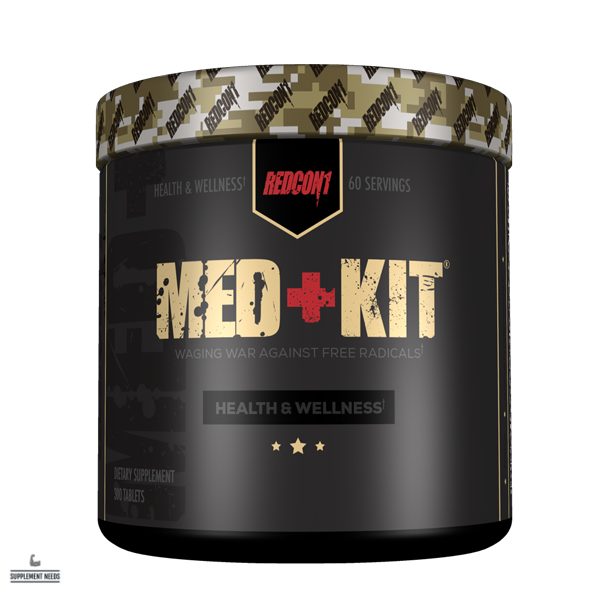 Redcon1 Med + Kit (Pak) - 60 Servings
Description
RedCon1 MED + KIT is a non-proprietary, fully transparent health management product.
Formulated using Astragalus Root, N-Acetyl-L-Cysteine, Resveratrol Extract, Curcumin, Hawthorn Berry, Beta Sitosterol, CoQ10, Pantethine, Omega 3 Oil Powder and Vitamins C, D, E, B1, B2, B3, B6, B12.
Available from Supplement Needs in a 60 servings pack.
Directions for Use
1 serving (5 capsules) to be taken twice daily.
Do not exceed the recommended dose.
Nutritional Information
Size: 300 Tablets
Serving Size: 5 Tablets
Servings: 60
Per 5 Tablets:
Vitamin D3 (as cholecalciferol) - 200iu

Vitamin E (as d-alpha tocopherol) - 50iu
Vitamin K2 (as menaquinone) - 20iu
Vitamin C (as ascorbic acid) - 500mg
Vitamin B1 (as Thiamine) - 2.5mg
Vitamin B2 (as Riboflavin) - 5mg
Vitamin B3 (as Niacinamide) - 22.5mg
Vitamin B6 (as Pyridoxine HCl) - 5mg
Vitamin B12 (as Methycoblamin) - 0.05mg
Omega 3 Oil Powder (7% EPA / 70% DHA) - 1500mg
Astragalus (Beet Root) - 1000mg
N-Acetyl L-Cysteine - 300mg
Resveratrol Extract (Std. for 20% trans-resveratrol) - 250mg
Curcumin 10:1 Extract - 200mg
Hawthorn Berry 5:1 Extract - 150mg
Beta Sitosterol Complex (19% Phytosterols, 8% Beta Sitosterol) - 125mg
CoQ10 (as Ubiquinol) - 50mg
Pantethine (Vitamin B5 derivative) - 150mg
Other Ingredients: Microcrystalline Cellulose, Stearic Acid, Sodium starch glycolate, Silica, Titanium dioxide, FD&C Red #40.