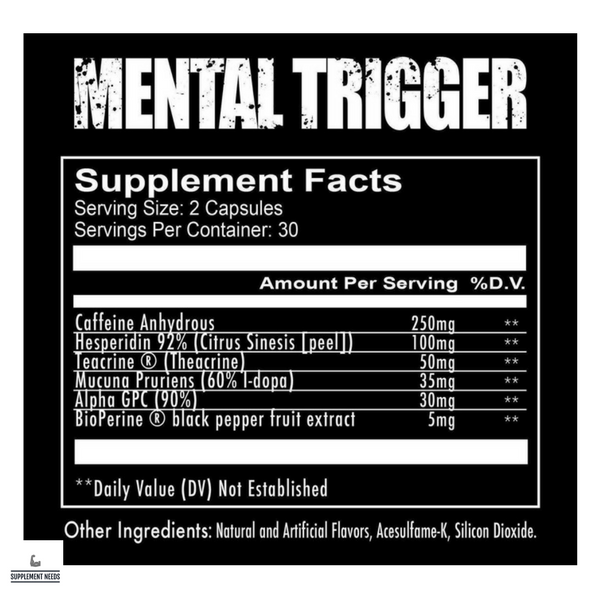 Redcon1 Mental Trigger - 60 Capsules
Description
RedCon1 Mental Trigger is a caffeine nootropic stimulant based supplement designed to take mental focus to a new level.
Formulated using Caffeine Anhydrous, Hesperidin, Theacrine, Mucuna Pruriens, Alpha GPC and Bioperine.
Mental Trigger can be stacked with Big Noise.
Available from Supplement Needs in 60 capsules tub.
Directions for Use

1 serving (1 capsule) to be taken in the morning on an empty stomach or before training.
A second capsule may be taken if desired.
Do not exceed recommended daily intake.
Nutritional Information
Size: 60 Capsules
Serving Size: 2 Capsules
Servings: 30
Per Serving (2 Capsule):
Caffeine Anhydrous - 250mg
Hesperidin 92% (Citrus Sineses [peel]) - 100mg
Teacrine (Theacrine) - 50mg
Mucuna Pruriens (60% L-Dopa) - 35mg
Alpha GPC (90%) - 30mg
BioPerine - black pepper fruit extract - 5mg
Other Ingredients: Natural and artificial flavours, Acesulfame K, Silicon Dioxide