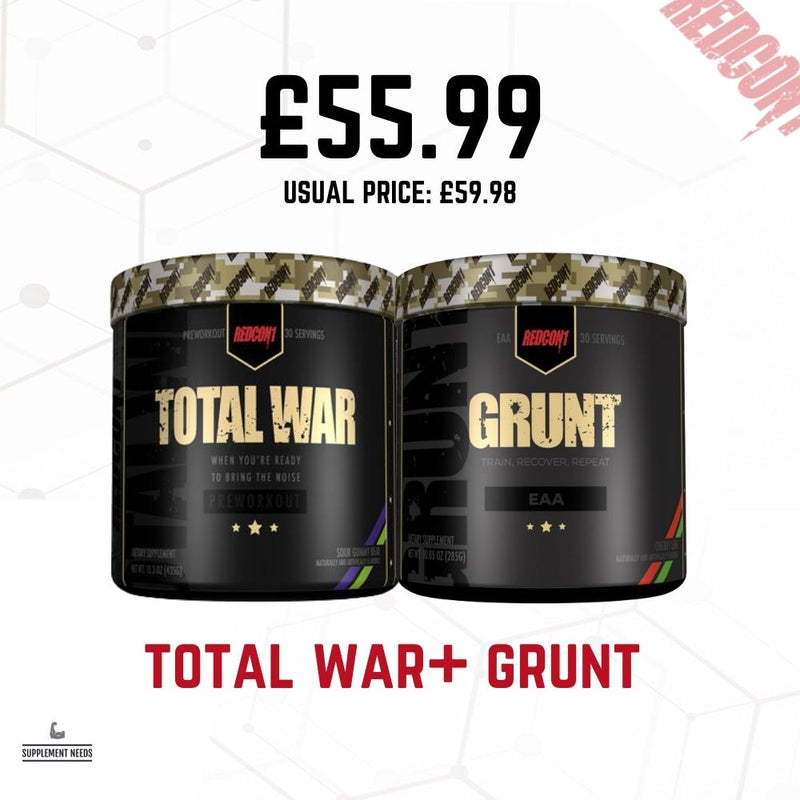 Redcon1 Total War and Grunt 30 Servings Bundle
Description
Supplement Needs brings you the perfect peri-workout bundle combination for the highest state of readiness - Total War and Grunt.
RedCon1 Total War is a caffeine stimulant based pre-workout supplement designed to take vasodilation and mental focus to a new level.
Formulated using Citrulline Malate, Beta Alanine, Agmatine Sulfate, Taurine, Caffeine Anhydrous, Juniper Berry Extract, Di-Caffeine Malate, Green Tea Extract, Naringin, Theobroma Cocoa Extract for Theobromine and Bioperine.
Available from Supplement Needs in 13 flavours – Blue Raspberry, Watermelon, Strawberry Kiwi, Blue Lemonade, Sour Gummy Bear, Tiger's Blood, Pineapple Juice, Orange Crush, Green Apple, Strawberry Mango, Rainbow Candy, Grape and Moscow Mule.
RedCon1 Grunt is a non-proprietary Essential Amino Acid supplement designed to be taken to support your daily protein intake.
Formulated using all 9 Essential Amino Acids, yielding 6.9g per 9.5g serving; of which 3g L-Leucine, 1.5g L-IsoLeucine, 1.5g L-Valine.
Grunt has been designed to be stacked alongside Cluster Bomb.
Available from Supplement Needs in 3 flavours – Cherry Lime, Pineapple Banana and Tiger's Blood
Directions for Use
Total War
Mix 1 serving (14g) with 200-300ml water and consume 20-30 mins before training.
Tolerance is best assessed with a half serving to begin.
Do not exceed recommended daily intake.
Grunt
Mix 1 serving (9.5g) with 400-600ml water and consume.
Nutritional Information
Total War 
Size: 441g
Serving Size: 14.7g
Servings: 30
Per 14.7g Serving (1 Scoop):
Citrulline Malate (2:1 Ratio of L-Citrulline and Malic Acid) - 6g
Beta-Alanine - 3.2g
Beet (root) Extract - 1g
Taurine - 1g
Caffeine Anhydrous - 250mg
Juniper (Juniperus communis) (berry) Extract - 150mg
Di-Caffeine Malate - 100mg
Green Tea (leaf) Extract (providing 90% polyphenols) - 45mg
Naringin (Citrus grandis) (fruit) (providing 98% Naringin) - 25mg
BioPerine® (Black Pepper Fruit Extract) - 10mg
Theobroma Cocoa (seed) Extract (providing 98% Theobromine) - 5mg
Grunt

Size: 285g
Serving Size: 1 Scoop (9.5g)
Servings: 30
Per Serving: 9.5g (1 Scoop):
L-Leucine - 3g
L-Isoleucine - 1.5g
L-Valine - 1.5g
L-Lysine - 300mg
L-Threonine - 250mg
L-Phenylalanine - 250mg
L-Tryptophan - 50mg
L-Histidine - 25mg
L-Methionine - 25mg
Other Ingredients: Citric acid, natural and artificial flavours, malic acid, sucralose, acesulfame-k, silica.