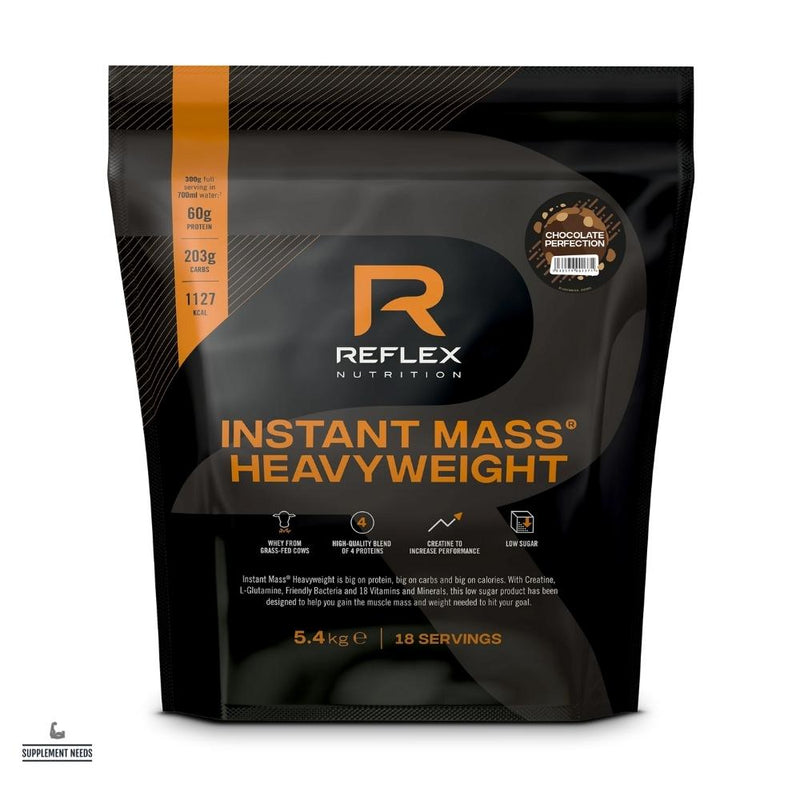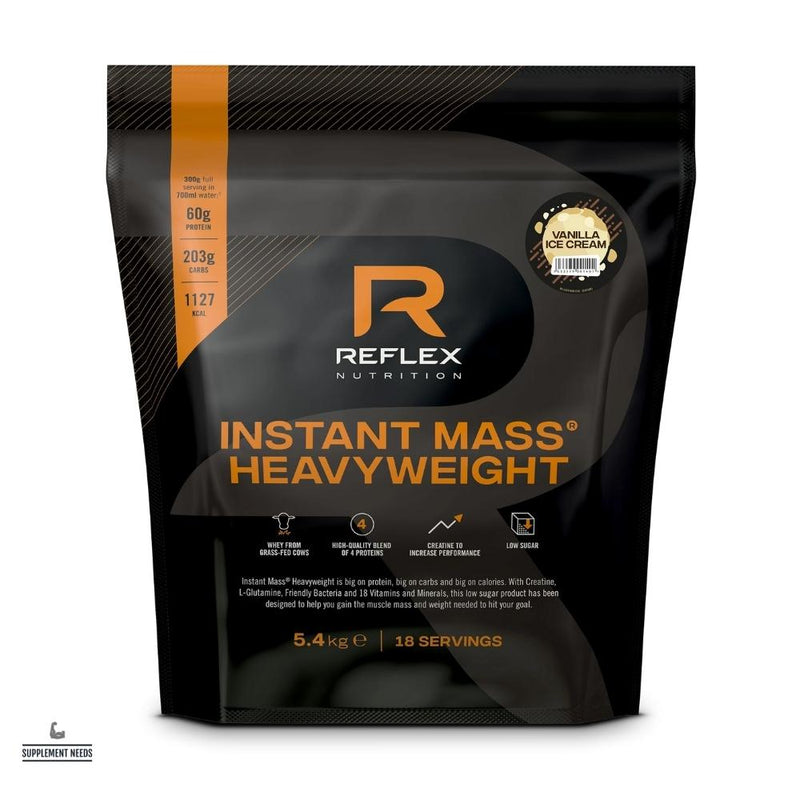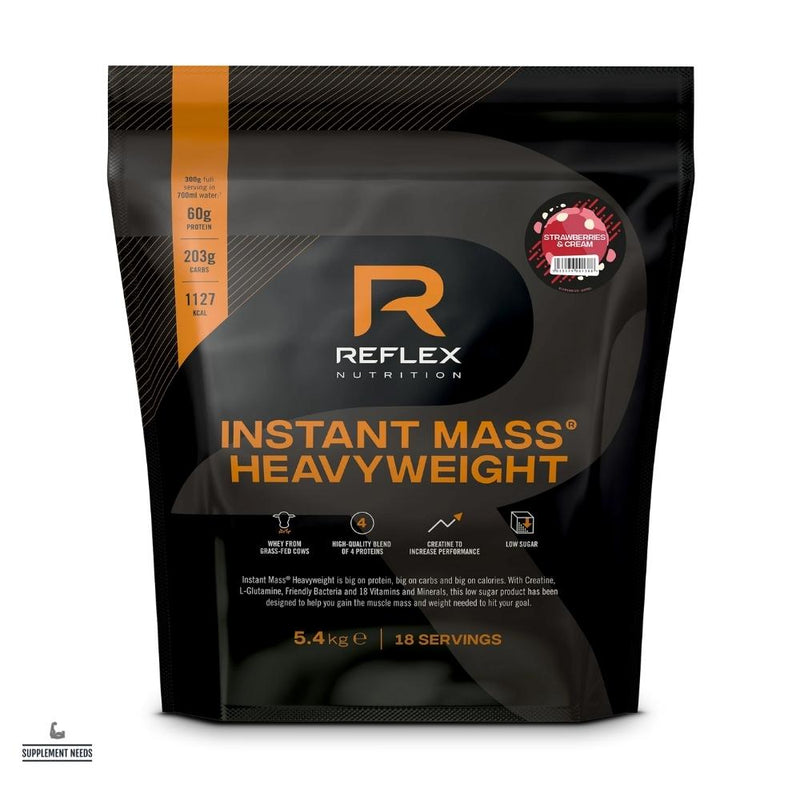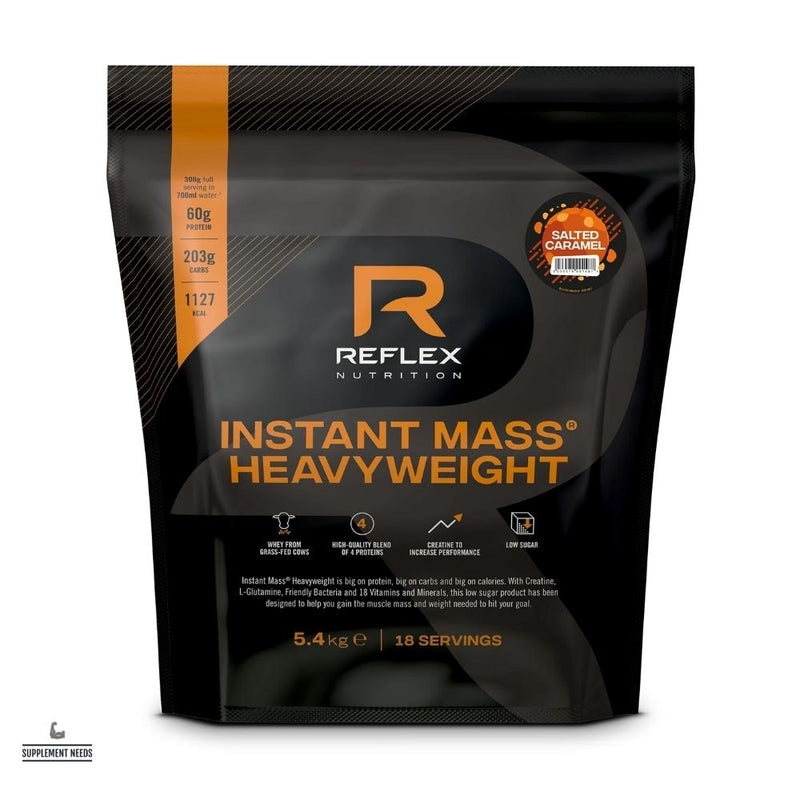 Reflex Instant Mass Heavyweight - 5.4kg
Description
Reflex Nutrition Instant Mass Heavyweight is a non-proprietary Mass Gainer supplement designed to be taken to support your daily protein and nutrition intake as part of a higher calorie diet.
Formulated using Whey Protein Concentrate, Native Whey Protein Isolate, Milk Protein Concentrate, Egg White Protein Isolate, Hydrolysed Whey Protein and Peptide-Bonded Glutamine to yield 60g Protein per 300g serving; alongside 219g carbohydrates from Maltodextrin, Oat Flour and Trehalose; and finished off with Creatine, Choline, 11 Vitamins (A, C, D, B1, B2, B3, B5, B6, B7, B9, B12) and 6 Minerals (Magnesium, Iron, Zinc, Copper, Selenium and Chromium); LactoSpore Probiotics and BioPerine.
Available from Supplement Needs in 5 flavours – Chocolate, Vanilla, Strawberries and Cream, Chocolate Peanut Butter and Salted Caramel.
Directions for Use
Mix 1 serving (300g) with 700ml water and consume.
A second shake may be consumed daily as required.
Nutritional Information

Size: 5.4kg

Serving Size: 300g (2 scoops)

Servings: 18
 

Per 300g Serving:
Ingredients:
CarboBiotics™ Carbohydrate Blend (61%) (Maltodextrin, OAT Flour, Trehalose), High Biological Value Protein Blend (16%) (Whey Protein Concentrate (MILK), Native Whey Protein Isolate (MILK), MILK Protein Concentrate, EGG White Protein Isolate, Hydrolysed Whey Proteins (MILK), Peptide-Bonded Glutamine (WHEAT)), Creapure® Creatine Monohydrate, Cocoa Powder (5%) (chocolate varieties only), Flavourings, Colour (Betanin (strawberries & cream variety only)), L-Glutamine, Magnesium Bisglycinate, Potassium Chloride (choc-peanut butter variety only), L-Choline Bitartrate, Sweetener (Acesulfame K), L-Ascorbic Acid, Bacillus Coagulans (LactoSpore®), Emulsifier (SOYA Lecithin), Sweetener (Sucralose), Zinc Bisglycinate, Tocotrienol-Rich Annatto seed extract (DeltaGold® - 35% total tocotrienols of which 84-92% Delta-Tocotrienols, 8-16% Gamma-Tocotrienols), Iron Bisglycinate, Nicotinamide, Copper Bisglycinate, Selenomethionine (SeleniumSeLECT®), Piperine Extract (Bioperine®), Retinyl Acetate, D-Calcium Pantothenate, Cholecalciferol, Riboflavin, Thiamin Hydrochloride, Pyridoxine Hydrochloride, Colour (Beta Carotene (vanilla ice cream variety only)), Chromium Picolinate, Pteroylmonoglutamic Acid, D-Biotin, Methylcobalamin, Anti-Caking Agent (Calcium Silicate).

Allergens in bold.