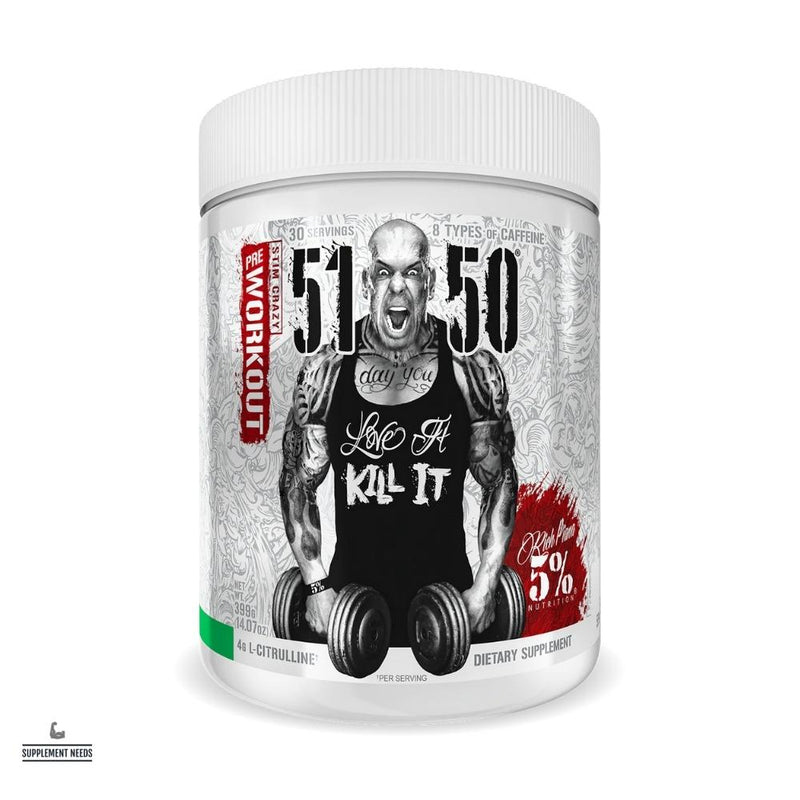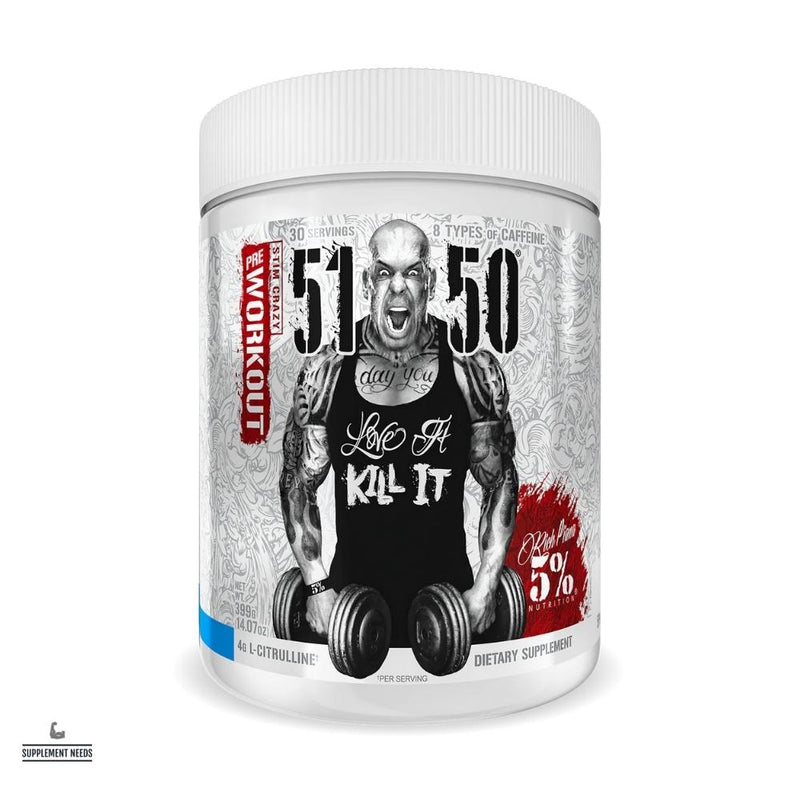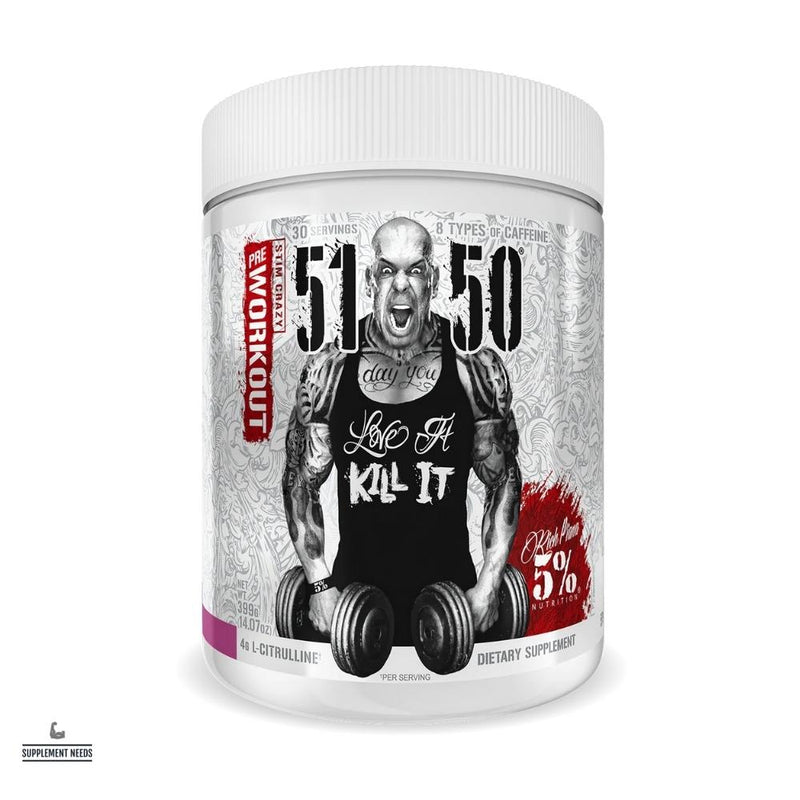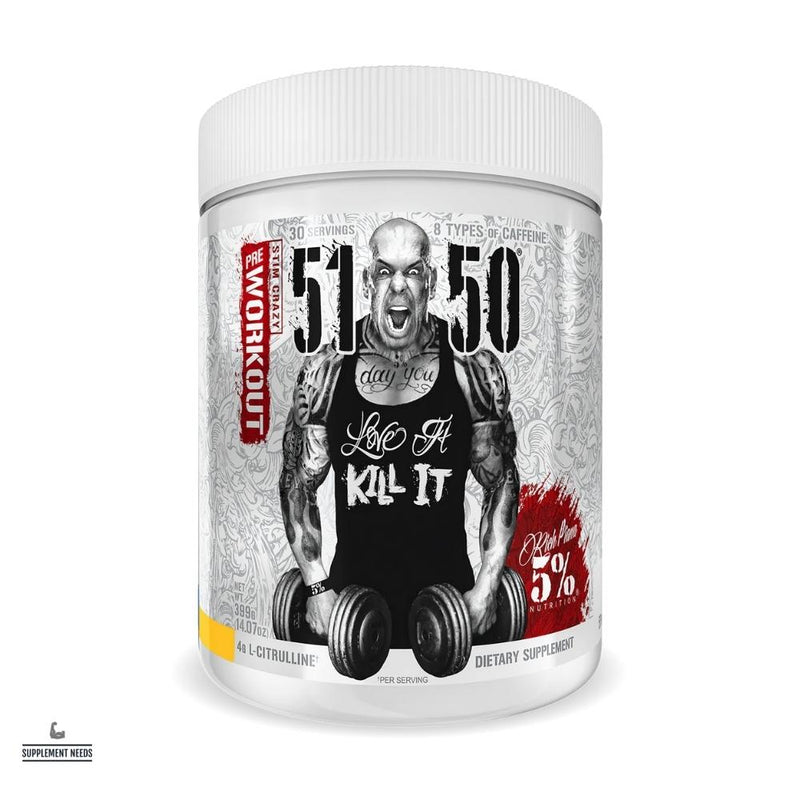 Rich Piana 5% Nutrition 5150 - 372g
Description
Rich Piana 5% Nutrition 5150 is a caffeine stimulant based pre-workout supplement; perfect for the Stim Junkie seeking that 5% mentality for training.
Formulated using L-Citrulline, Beta Alanine, Taurine, N-Acetyl-L-Tyrosine, Choline Bitartrate, a Stim Crazy Caffeine Complex containing Caffeine Anhydrous, Cocoa Alkaloids, DiCaffeine Malate, Green Tea Extract, Yerba Mate Extract, Guarana Seed Extract and Green Coffee Extract.
5150 can be stacked with Full As F*ck.
Available from Supplement Needs in 4 flavours – Green Apple, Blue Ice, Wild Berry and Tropical Rage.
Directions for Use
Mix 1 serving (13.3g) with 200-300ml water and consume 20-30 mins before training.
Do not exceed the recommended daily intake.
High Caffeine Content
Nutritional Information
Size: 399g
Serving Size: 13.3g (1 Scoop)
Servings: 30
Per 12.4g Serving (1 Scoop):
Vitamin B-3 (as niacin) 30 mg
Vitamin B-12 (as cyanocobalamin) 1,000 mcg
L-Citrulline 4,000 mg
Beta Alanine 3,000 mg
L-Taurine 2,000 mg
N-Acetyl L-Tyrosine 750 mg
Choline Bitartrate 500 mg
Alpha-Glyceryl Phosphoryl Choline 50%  200 mg
Cocoa Alkaloid Extract (Theobroma cacao L.)(seed)(Cocobuterol)                  80 mg
Synephrine Hydrochloride 45 mg
Toothed Clubmoss (Huperzia serrata)(aerial parts)(standardized to 1% Huperzine A) 50 mcg
Stim-Crazy Caffeine Complex 513 mg
Caffeine Anhydrous, Dicaffeine Malate (Infinergy™), Theobromine, Caffeine (from Green Tea (Leaf)), Yerba Mate Extract (Leaf), Guarana Seed Extract (Paullinia cupana), Rauvolfia Canescens (Alpha-Yohimbine)(Whole Plant), Green Coffee Bean Extract (Seed), Gotu Kola Extract (Centella asiatica)(Whole Herb)