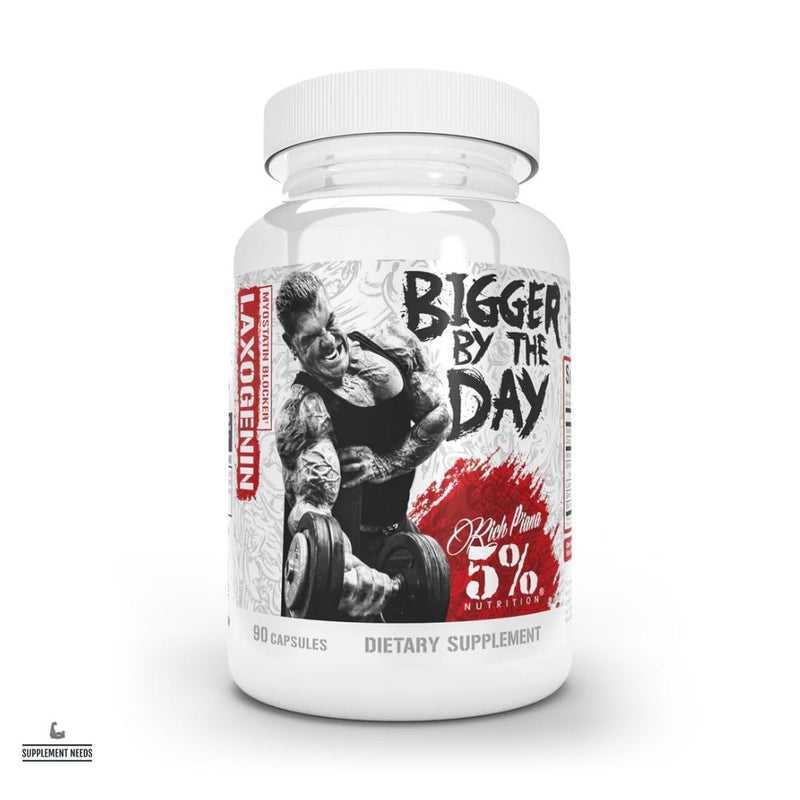 Rich Piana 5% Nutrition - Bigger By The Day, Muscle Builder - 90 Capsules
Description
Rich Piana 5% Nutrition Bigger By The Day is an all-natural muscle builder that is without a doubt the strongest formula of it's kind on the market. This is a formula that's so hardcore, only 5% Nutrition could have created it!
Bigger By The Day contains the most powerful natural muscle building ingredients available. We've combined 4 potent all natural muscle builders into one generously dosed formula. We've also included a potent absorption enhancer to insure optimal results. You know 5% Nutrition, there's nothing else this hardcore on the market! 

Directions for Use
On your first two days, take 1 serving (1 capsule) with your first meal of the morning and 1 serving (1 capsule) with a light, high protein snack before bed.
On day three, increase to 1 serving (1 capsule) three times a day (with breakfast, lunch and dinner).
Do not exceed more than 3 capsules per day.
Nutritional Information
Size: 90 Capsules

Serving Size: 3 Capsules

Servings: 30
Per 3 Capsule daily serving:
Vitamin A (as retinol palmitate) 1500mcg
Calcium (as dicalcium phosphate) 45mg


Alpha Hydroxyisocaproic Acid (HICA) 500mg
 
5a-Hydroxy Laxogenin (from Smilax officinalis extract (root))(Laxosterone®) 300mg

L-Leucine 200mg

Green Tea Extract (90% Epicatechin) 200mg

Black Pepper Extract (Piper nigrum)(fruit)(Bioperine®)  10mg
Other Ingredients: Gelatin, Rice Powder, Magnesium Stearate, Silicon Dioxide