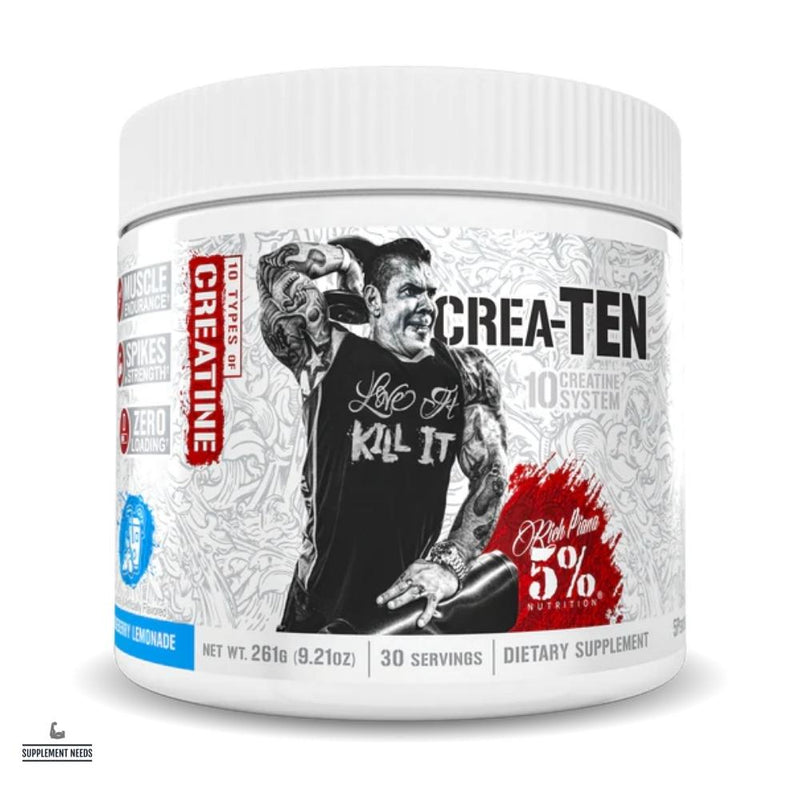 Rich Piana 5% Nutrition Createn - 231g
Description
Rich Piana 5% Nutrition Createn is a proprietary supplement designed to be taken to support daily health and sports performance.
Formulated using a proprietary Creatine Blend of 10 different Creatines - Magnesium Creatine Chelate (Creatine MagnaPower®), Tri-Creatine Malate, Creatine Anhydrous, Creapure® (Creatine Monohydrate), Creatine Citrate, Creatine Pyruvate, Creatine Ethyl Ester, Creatine AKG, Creatine Ethyl Ester Malate, Creatine Gluconate and a proprietary Creatine Accelerate blend for hydration and glucose disposal including Taurine, Betaine, Gymnema Sylvestre, Bioperine, Vanadium Chelate, Banaba Leaf and Fenugreek Seed Extract.
Available from Supplement Needs in 4 flavours – Fruit Punch, Blue Raspberry, Mango and Pineapple and Lemon Lime.
Directions for Use
1 serving (7.7g) to be mixed with water and consumed after training.
Additionally, it may also be taken on non-training days; preferably with a carbohydrate meal.
It is best to take each serving with simple carbohydrates (sugars) due to the glucose disposal ingredients.
Nutritional Information
Size: 231g
Serving Size: 7.7g (1 Scoop)
Servings: 30
Per 7.7g Serving (1 Scoop):
Chromium (as Chromium Nicotinate Chelate) - 120 mcg     

Creatine Blend - 5,000 mg
Magnesium Creatine Chelate (Creatine MagnaPower®)
Tri-Creatine Malate
Creatine Anhydrous
Creapure® (Creatine Monohydrate)
Creatine Citrate
Creatine Pyruvate
Creatine Ethyl Ester
Creatine AKG
Creatine Ethyl Ester Malate
Creatine Gluconate   

Creatine Accelerate Blend - 1,590 mg  
Taurine
Betaine Anhydrous
Gymnema Sylvestre Extract (Leaves)
Black Pepper Fruit Extract (BioPerine®)
Vanadium Nicotinate Glycinate Chelate
Banaba Powder (Leaves)
Fenugreek Seed Extract