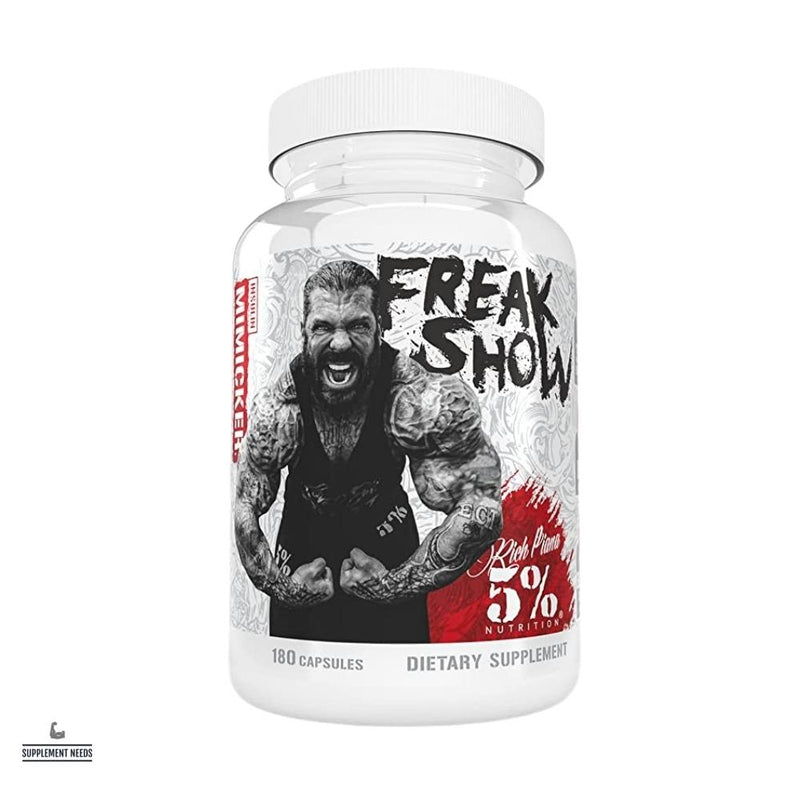 Rich Piana 5% Nutrition Freak Show - 180 Capsules
Description
Rich Piana 5% Nutrition Freak Show is a non-proprietary, fully transparent blood glucose management and glucose disposal agent supplement.
Formulated using Gymnema Sylvestre, Banaba Leaf, Berberine HCl, Cinnamon Extract, Bitter Melon Extract, R-Alpha Lipoic Acid, Fenugreek Extract and Bioperine.
Available from Supplement Needs in a 180 capsules tub.
Directions for Use
1 serving (6 capsules) to be taken 30 minutes before the first meal of the day ideally containing carbohydrates.
Nutritional Information
Size: 180 Capsules
Serving Size: 6 Capsules
Servings: 30
Per Serving (6 Capsules):
Thiamine (as Thiamine Hydrochloride) 100 mg  
Calcium (as Di-Calcium Phosphate) 63 mg  
Chromium (as Chromium Chloride) 400 mcg  
Gymnema Sylvestre Extract (leaves) 1,000 mg  
Banaba Powder (Lagerstroemia speciosa)(leaves) 500 mg  
Berberine Hydrochloride (from Phellodendron)(Phellodendron amurense Rupr.) 350 mg  
Cinnamon Extract (Cinnamomum verum)(bark) 300 mg  
Bitter Melon Extract 4:1 (Momordica charantia)(fruit) 300 mg  
Na-R[+]-Alpha Lipoic Acid 200 mg  
Fenugreek Extract (standardized to 50% Saponins)(Trigonella foenum-graecum L.)(seeds) 100 mg  
Black Pepper Extract (Piper nigrum)(fruit)(Bioperine®) 10 mg
Other Ingredients: Capsule (Gelatin, Titanium Dioxide), Silicon Dioxide, Rice Powder, Magnesium Stearate