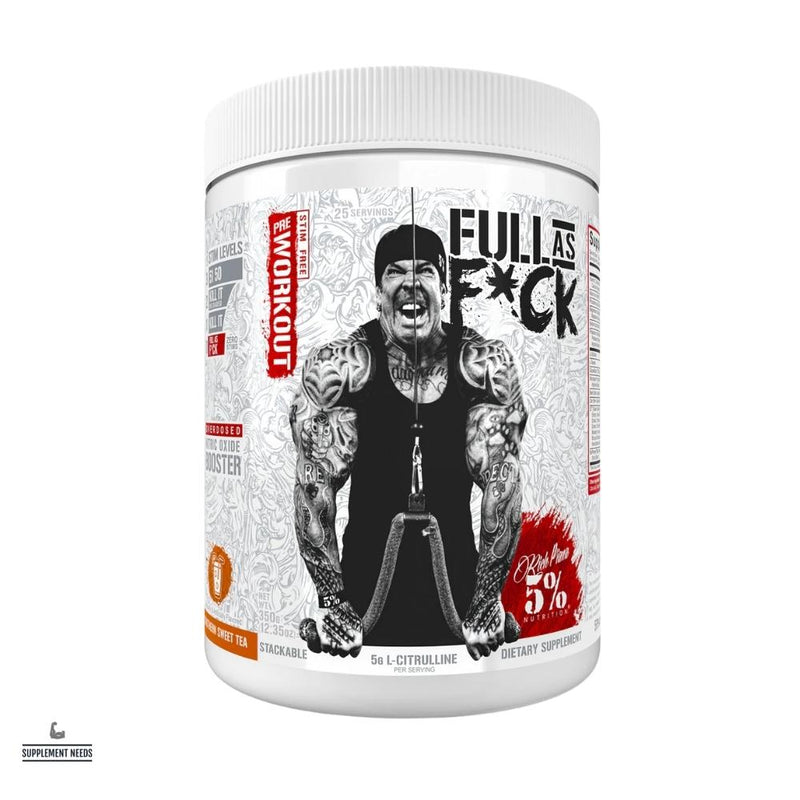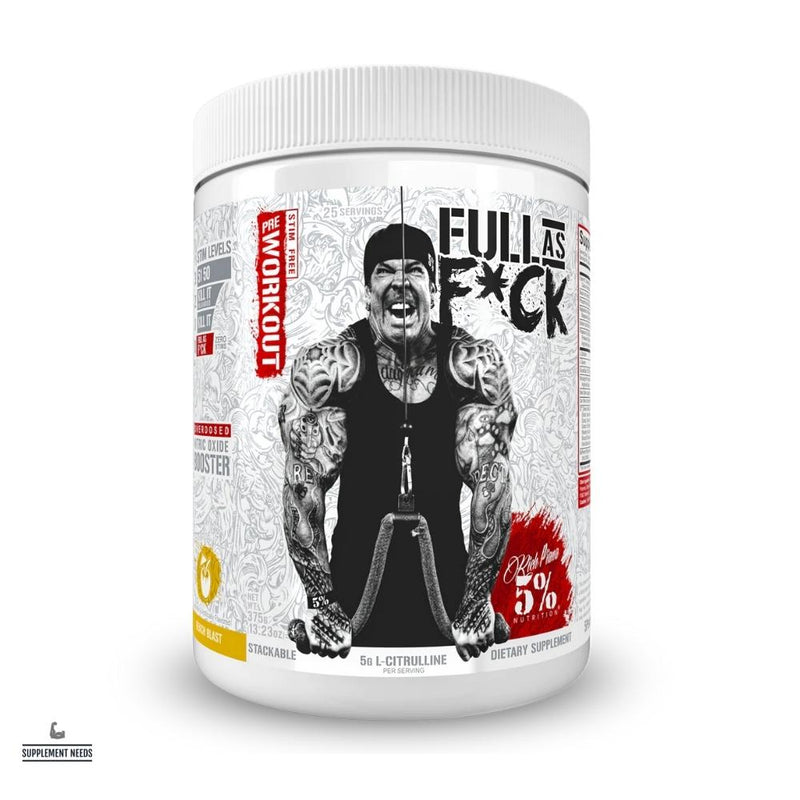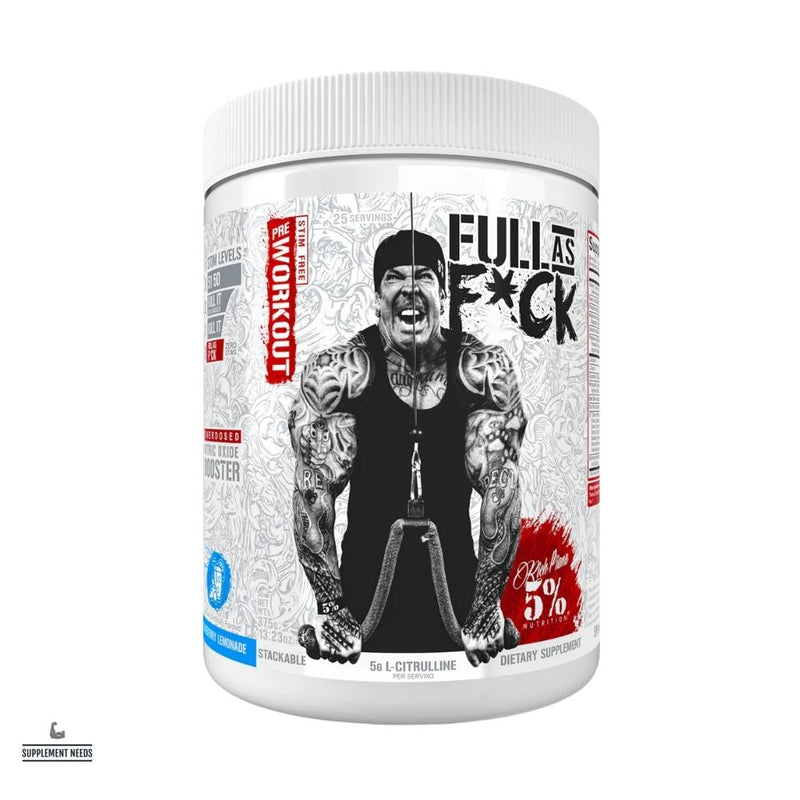 Rich Piana 5% Nutrition Full As Fuck (EU Version) - 360g
Description
Rich Piana 5% Nutrition Full as Fuck is a non-proprietary, pump pre-workout supplement designed to aid in vasodilation and hydration.
Formulated using L-Citrulline, L-Taurine, GlycerSize trademarked Glycerol, Nitrosogine patented Bonded Arginine Silicate, Beet root extract, Dan-Shen Extract, S7 trademarked herbal blend and Bioperine.
Available from Supplement Needs in 8 flavours – Blue Raspberry, Wild Berry, Fruit Punch, Pomegranate, Sweet Southern Tea, Beach Blast, Blueberry Lemonade and Push Pop.
Directions for Use
Mix 1 serving (14g) with 300-400ml water and consume 20-30 mins before training
Nutritional Information

Rich Piana Full as F*ck Ingredients
Size: 375 g
Serving Size: 1 scoop (14g)
Servings per container : 25

Amount Per Serving (14g):

Vitamin C (as ascorbic acid, calcium ascorbate) 250 mg
Niacin (as vitamin B3) 30 mg 
Phosphorus (as dipotassium phosphate) 60 mg
Magnesium (as magnesium citrate, magnesium glycerophosphate) 15 mg
Sodium (as sodium glycerophosphate) 1 mg
Potassium (as dipotassium phosphate, potassium citrate, inositol-stabilized arginine silicate, potassium glycerophosphate) 230 mg 5%
L-Citrulline 5,000 mg
L-Taurine 2,000 mg
GlycerSize (65% glycerin powder) 2,000 mg
Nitrosigine® (inositol-stabilized arginine silicate) 500 mg
Beetroot (Beta vulgaris) (root) 500 mg
Dan Shen (Salvia miltiorrhiza) (root) extract 100 mg
S7 50 mg [Green coffee (Coffea arabica) (bean) extract, green tea (Camellia sinensis) (leaf) extract, turmeric (Curcuma longa L.) (rhizome) extract, sour cherry (Prunus cerasus) (cherry), blueberry (Vaccinium corymbosum) ( Berry), broccoli (Brassica oleracea itafica) (whole), kale (Brassica oleracea acephala) (leaf)]
BioPerine® [Black Pepper (Piper nigrum) (Fruit) Extract] 5 mg


Other ingredients: Citric Acid, Silicon Dioxide, Natural and Artificial Flavors, Glucose Polymers, Sucralose, Acesulfame K, FD&C Blue No. 1