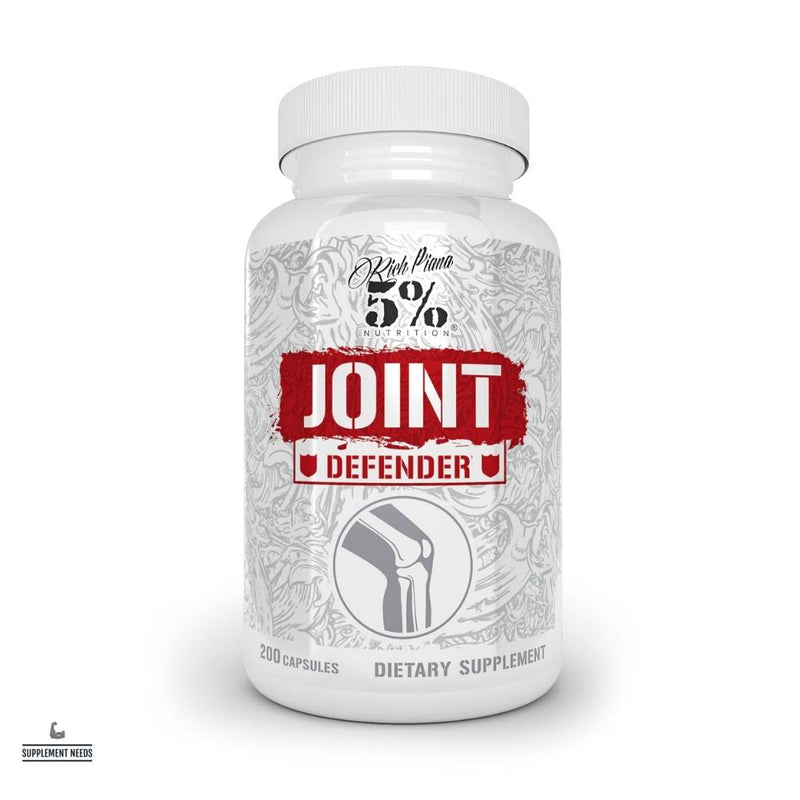 Rich Piana 5% Nutrition Joint Defender - 200 Capsules
Description
Rich Piana 5% Nutrition Joint Defender is a non-proprietary, fully transparent joint health management product.
Formulated using Glucosamine Sulfate, Methylsulfonylmethane, Collage Type II, Chondroitin Sulfate, L-Proline, L-Lysine, Hyaluronic Acid, Cat's Claw Powder, Tumeric Extract and Bioperine.
Available from Supplement Needs in a 200 capsules tub.
Directions for Use
1 serving (8 capsules) daily.
Alternatively, the daily dosage can be split evenly across the day as needed.Do not exceed the recommended dose.
Nutritional Information
Size: 200 caps
Serving Size: 8 capsules
Servings: 25
Per serving (8 caps):
D-Glucosamine Sulfate Potassium (shellfish free) 1,500 mg
Methylsulfonylmethane (MSM) 1,000 mg            
Collagen Type II 65% (from Chicken Sternum Cartilage (KollaGen II-xs™)) 1,000 mg
Chondroitin Sulfate 500 mg
L-Proline 300 mg
L-Lysine (as L-Lysine Hydrochloride) 200 mg
Hyaluronic Acid (from Chicken Sternum Cartilage, Sodium Hyaluranate) 125 mg
Cat's Claw Powder (Uncaria tomentosa)(bark) 50 mg
Turmeric Extract (95% Curcuminoids)(Curcuma longa)(bark) 25 mg
Black Pepper Extract (Piper nigrum)(fruit)(Biopenne®) 5 mg