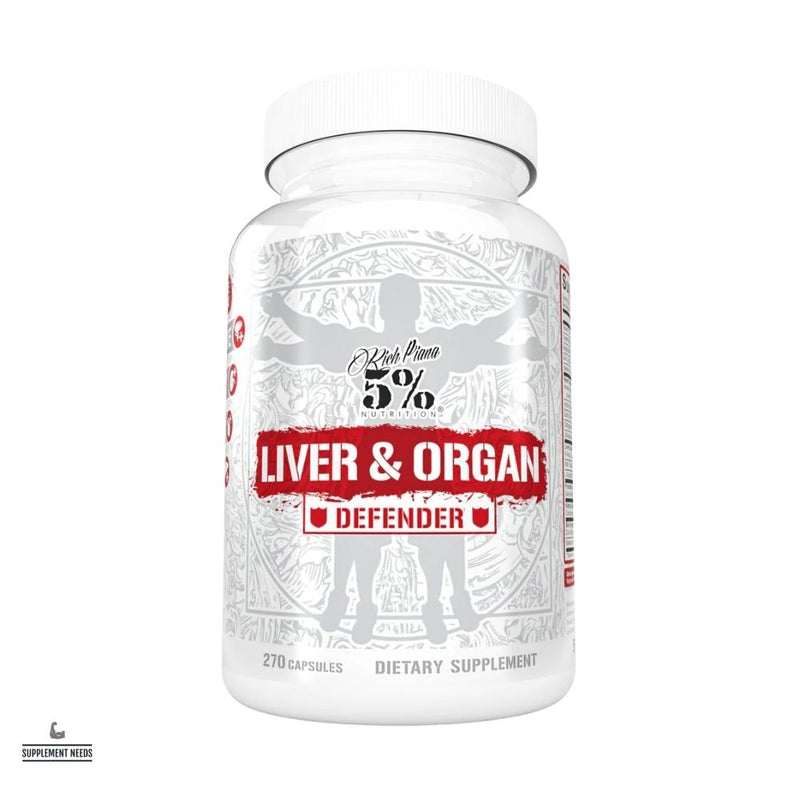 Rich Piana 5% Nutrition Liver & Organ Defender
Description
Rich Piana 5% Nutrition Liver & Organ Defender is a non-proprietary, fully transparent health management product.
Formulated using 12 ingredients - N-Acetyl-Cysteine, Milk Thistle Powder, L-Glutathione (TwinTiger), Hawthorne Berry Powder (berries), Alpha-Lipoic Acid, Garlic Extract, Dimagnesium Malate, Ubidecarenone (CoQ10), Saw Palmetto, Cordyceps Sinensis, Minerals Zinc, Selenium, Magnesium and Vitamin D3 and B6.
Available from Supplement Needs in a 270 capsules tub.
Directions for Use
1 serving (3 capsules) to be taken three times daily; preferably with meals.
Do not exceed the recommended dose.

Do not use if you are pregnant or nursing. Consult a physician before using this product if you have, or have a family history of high blood pressure, heart, liver, thyroid or psychiatric disease, diabetes, anaemia, nervousness, anxiety, depression, seizure disorder, stroke or difficulty in urination due to prostate enlargement. Do not use if you are taking an MAO or MAOI inhibitor. Exceeding recommended dosage may cause serious adverse side effects including heart attack and stroke. Discontinue use and call a physician immediately if you experience rapid heartbeat, dizziness, severe headache, shortness of breath, or other similar symptoms. Individuals who are allergic or hypersensitive to caffeine should avoid the use of this product. Not intended for use by persons under the age of 18. Improper use of this product may be hazardous to a person's health.
Nutritional Information
Size: 270 Capsules
Serving Size: 9 Capsules (split into 3 servings through the day)
Servings: 30
Per 9 Capsule Serving:
Vitamin D (as Cholecalciferol) - 800IU

Vitamin B6 (as  Pyridoxine Hydrochloride) - 30mg

Magnesium (as Dimagnesium Malate) - 50mg

Zinc (as Zinc Bisglycinate Chelate) - 30mg

Selenium (as Selenium Glycinate Chelate) - 70mcg

Liver Support

N-Acetyl Cystine - 1000mg
Milk Thistle Powder - 600mg
L-Glutathione (TwinTiger) - 30mg

Heart Support

Hawthorne Berry Powder (berries) - 1100mg

Alpha-Lipoic Acid - 400mg

Garlic Extract (dried bulb) - 300mg

Dimagnesium Malate - 250mg

Ubidecarenone (Co-Q10) - 25mg

Prostate Support
Saw Palmetto - 1000mg 

Kidney Support

Cordyceps Sinensis (Herb) - 500mg

Skin Support

Zinc Bisglycinate Chelate - 300mg

Selenium Glycinate Chelate - 7000mcg


Other ingredients: Gelatin, Plant Cellulose, Magnesium Stearate and Silicone Dioxide