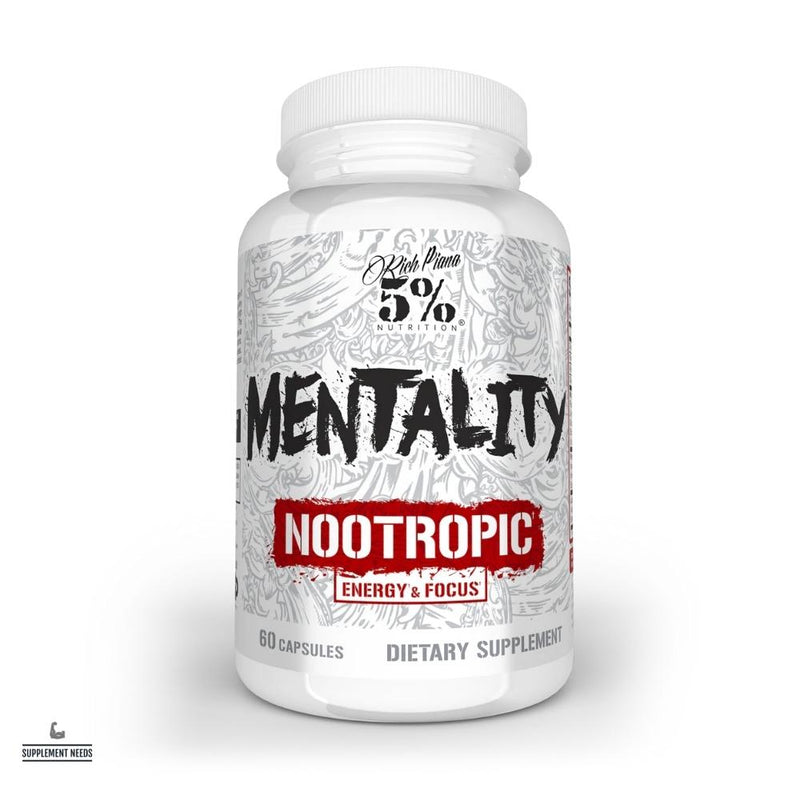 Rich Piana 5% Nutrition Mentality - 60 Capsules
Description
Rich Piana 5% Nutrition Mentality a proprietary blend, nootropic caffeine based supplement designed to be utilised when that 5% mental focus is required.
Formulated using a Mind Over Matter Mental Power proprietary blend of Panax Ginseng Extract, L-Phenylalanine, Theacrine, Alpha Lipoic Acid, Sulbutiamine, Ginkgo Biloba Extract, Gotu Kola, L-Theanine, Huperzine A; a PsychoStim Adder-All-In Energy proprietary blend of Caffeine, Dicaffeine malate, Guarana Seed Extract and Theobromine; a Lucid Focus Neurotransmission proprietary blend of Alpha-GPC, Choline Bitartrate and Dimethylethanolamine DL-Bitartrate; and a Cerebral Shock Cognitive Igniter Blend of N-methyl-Tyramine and Higenamine.
Available from Supplement Needs in a 60 capsules tub.
Directions for Use
1 serving (2 capsules) to be taken in the morning with food.
Additionally a second serving may be taken 4-6 hours later.
Nutritional Information
Size: 60 Capsules 
Serving Size: 2 Capsules 
Servings: 30
Per Serving (2 Capsules):