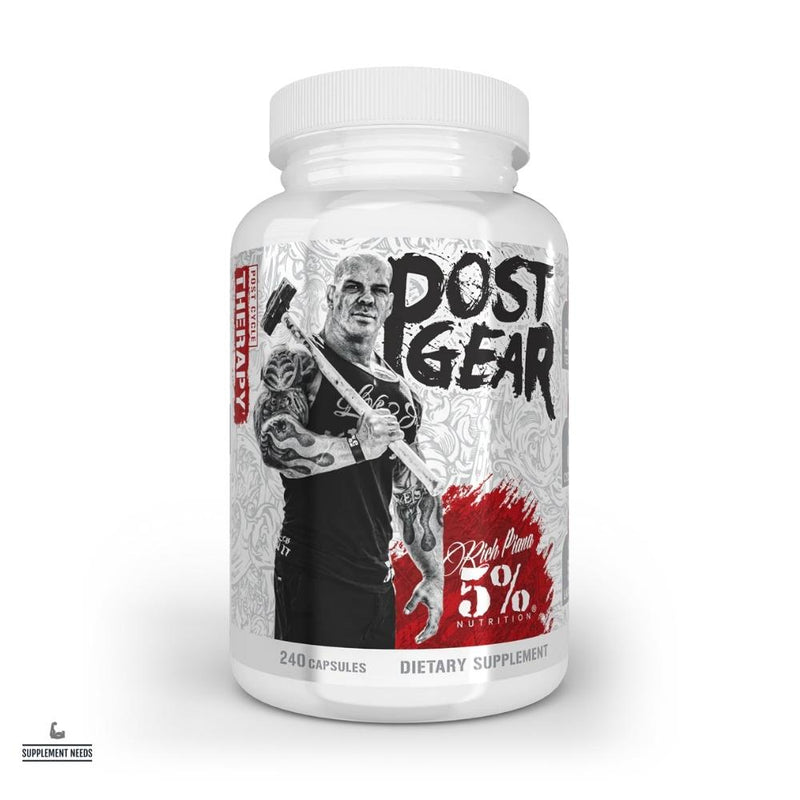 Rich Piana 5% Nutrition Post Gear PCT - 240 Capsules
Description
Rich Piana 5% Nutrition Post Gear PCT (Post Cycle Therapy) is a non-proprietary supplement to support daily male hormone and general health.
Formulated using 9 ingredients – D-Aspartic Acid, Longjack Extact, Laxogenin, Brassaiopsis Glomerulata, 3,3'-Diindoylmethane (DIM), Stinging Nettle Leaf, Acacetin, Milk Thistle Extract, Artichoke Leaf Extract and Bioperine.
Post Gear PCT has been designed to be stacked with Liver & Organ Defender.
Available from Supplement Needs in a 240 capsules tub.
Directions for Use
1 serving (8 capsules) to be taken daily.
Do not exceed the recommended dose.
Nutritional Information
Size: 240 Capsules
Serving Size: 8 Capsules 
Servings: 30
Per Serving (8 Capsules):
Vitamin D (as cholecalciferol) 5,000 IU
Vitamin E (as d-alpha tocopheryl acetate) 30 IU
Vitamin B-6 (as pyridoxine-5'-phosphate monohydrate) 10.5 mg
Calcium (as dicalcium phosphate) 24 mg
Magnesium (as magnesium carbonate) 70 mg
Zinc (as zinc citrate) 30 mg
TESTOSTERONE BOOSTING COMPLEX:
D-Aspartic Acid 3,120 mg
Longjack Extract (Eurycoma longifolia)(root) 300 mg
5a-Hydroxy Laxogenin (from Smilax officinalis extract (root))(Laxosterone®) 50 mg
ESTROGEN CONTROL COMPLEX:
Brassaiopsis Glomerulata 500 mg
3,3'-Diindolylmethane (DIM) 300 mg
Stinging Nettles (Urtica dioica)(leaf) 300 mg
Acacetin 50 mg
LIVER SUPPORT COMPLEX:
Milk Thistle Extract 80% (Silybum marianum)(seeds) 200 mg
Artichoke Leaf Extract Cynarine 5% (Cynara scolymus L) 50 mg
ABSORPTION:
Black Pepper Extract (Piper nigrum)(fruit)(Bioperine) 5 mg
Other Ingredients: Gelatin, Magnesium Stearate, and Silicon Dioxide