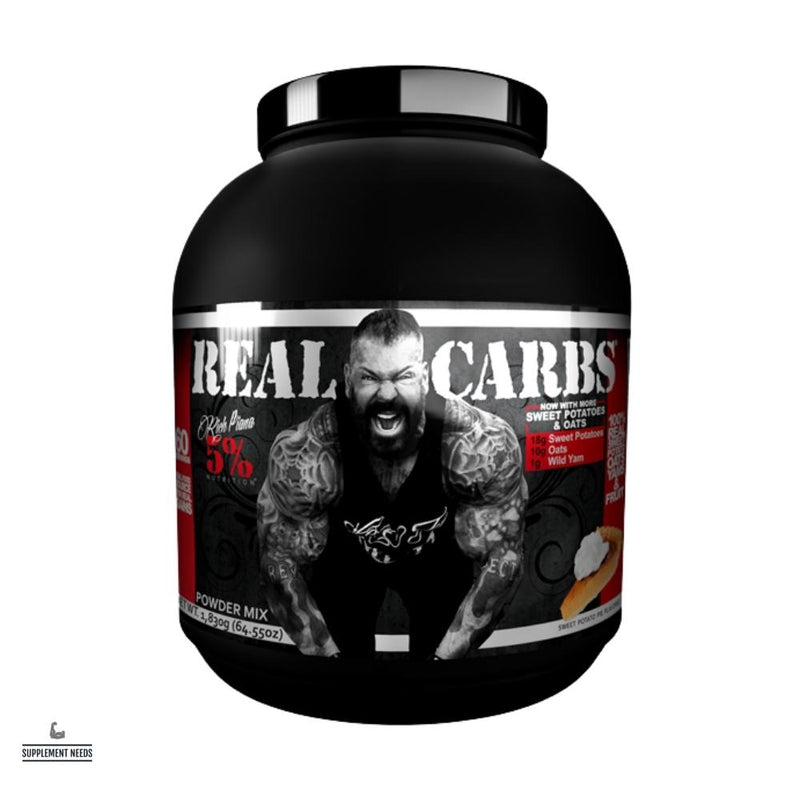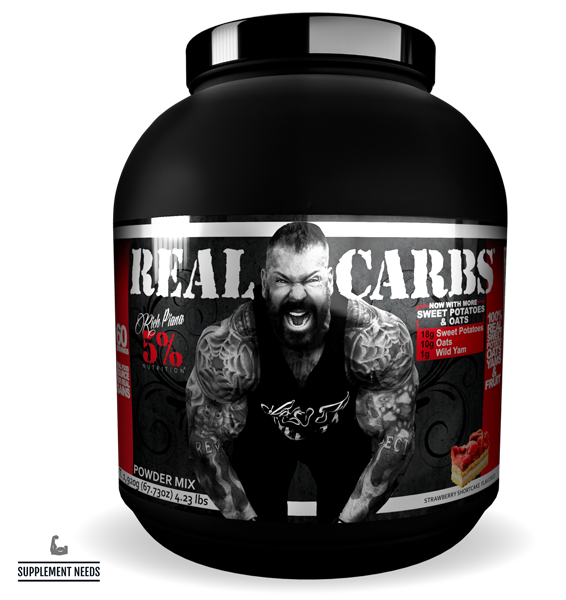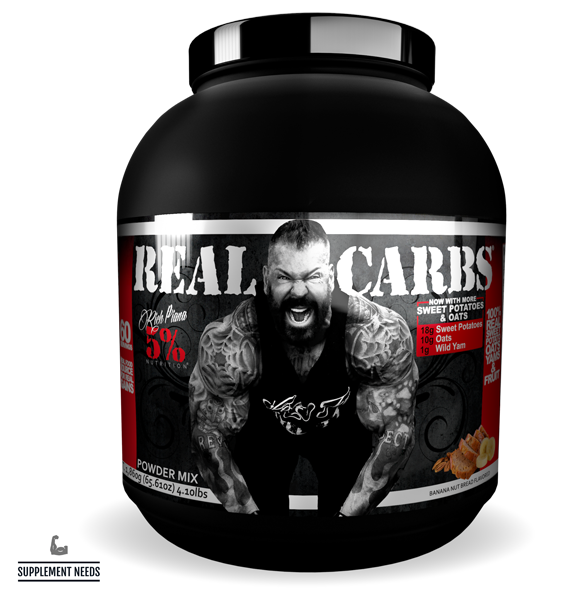 Rich Piana 5% Nutrition Real Carbs - 1.8kg
Description
Rich Piana 5% Nutrition Real Carbs is a carbohydrate supplement designed to be taken to support daily nutrition.
Formulated using an instantized form of Pounded Yam, Oats, Sweet Potato, Rice Bran and Tapioca Maltodextrin.
Real Carb can be stacked alongside Supplement Needs Whey-Iso Pure to create a well balanced, nutrient dense meal replacement.
Available from Supplement Needs in 4 flavours – Strawberry Cheesecake, Banana Nut Bread, Sweet Potato Pie and Blueberry Cobbler.
Directions for Use
1-2 servings (30-60g) to be mixed with the desired amount of water and consumed.
Nutritional Information
Size: 1.8kg
Serving Size: 30g (1 Scoop)
Servings: 60
Sweet Potato and Blueberry Cobbler Nutrition
Per 30g Serving (1 Scoop)
Calories - 100
Total Fat - 1g
Total Carbohydrate 21g
Dietary Fiber - 1.7g
Sugars - 1.4g
Protein - 1.5g
Vitamin A - 994 IU
Vitamin C - 4mg
Calcium - 11mg
Sodium (as sodium chloride) - 96mg
Potassium - 98mg
Pounded Yam - 10,000mg
Oats - 7,000mg
Sweet Potato - 10,000mg
Blueberry Fruit Powder - 500mg
Other Ingredients: Natural Flavours, Cellulose Gum, Xantham Gum, Carrageenan and Sucralose
Cocoa Heaven Nutrition
Per 37g Serving (1 Scoop)
Calories - 120
Total Fat - 5g
Total Carbohydrate 20g
Dietary Fiber - 6g
Sugars - 2g
Protein - 4g
Vitamin B3 (as niacin) - 10mg
Magnesium - 167mg
Sodium (as sodium chloride) - 72mg
Potassium - 379mg
Rice Bran (RiBran 300) - 23,000mg
Tapioca Maltodextrin (TapiOK) - 6,000mg
Oats - 5,000mg
Other Ingredients: Cocoa powder, Natural Flavours, Gum Blend (Cellulose Gum, Xantham Gum, Carrageenan), Sucralose