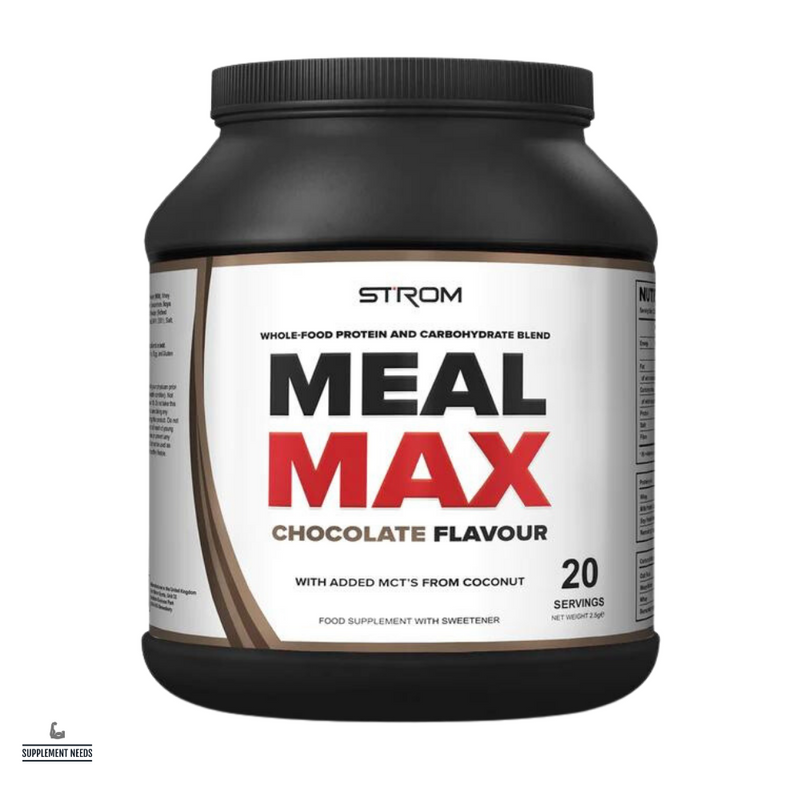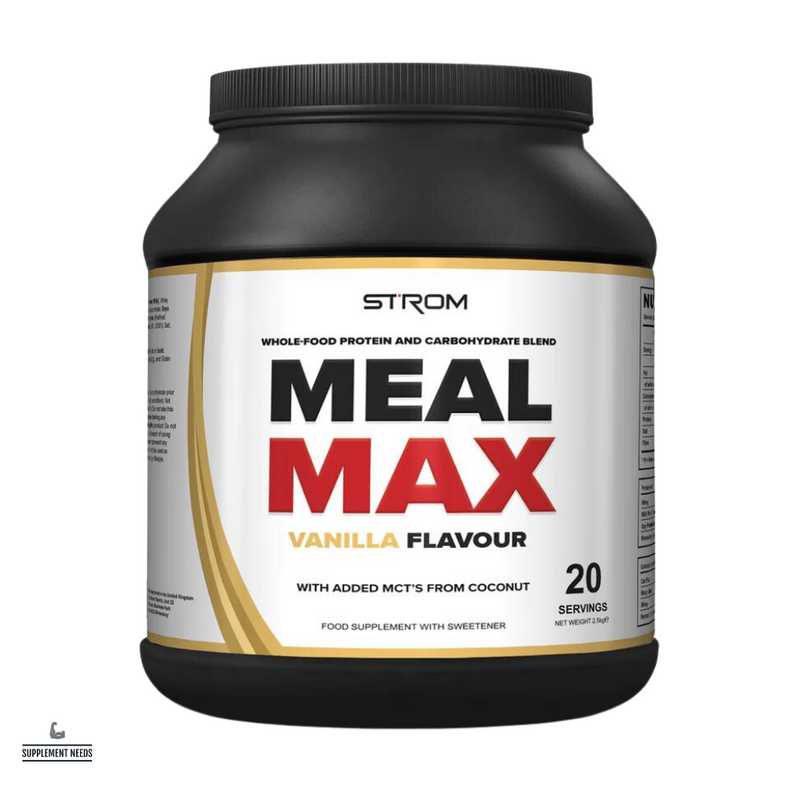 Strom Sports Meal Max - 2.5kg
Description
Strom Sports Nutrition Meal Max is a non-proprietary Meal Replacement Powder Solution supplement designed to be taken to support your daily protein and nutrition intake as part of your daily nutritional needs.
Formulated to yield 28.8g Protein per 125g serving (2.5 scoops) from a blend of Whey Protein, Milk Protein Concentrate, Soy Protein Isolate; 64.5g of Carbohydrates alongside 7.8g of Fibre from Oat Flour and Waxy Maize; and 8.9g of Fat from Coconut Oil. 
Available from Supplement Needs in 2 flavours – Chocolate and Vanilla
Directions for Use
125g serving (464 kcal): Mix 2.5 scoops with 250-300ml water and consume.
250g serving (928 kcal): Mix 5 scoops with 400-450ml water and consume.
Nutritional Information
Size: 2.5kg
Serving Size: 125g (2.5 scoops) / 250g (5 scoops)
Servings: 20/10
Per Serving (125g)
Kcal - 464


Fat - 8.9g
Of Which Saturates - 2.6g


Carbohydrates - 64.4g
Of Which Sugars - 10.9g


Protein - 23.1g


Salt - 153mg
Fibre - 6.2g
Per Serving (250g)
Kcal - 928


Fat - 17.8g
Of Which Saturates - 5.3g


Carbohydrates - 129g
Of Which Sugars - 21.8g


Protein - 57.6g


Salt - 1.95g
Fibre - 15.5g
Ingredients: Oat Flour, Waxy Maize Starch, Whey Powder [Milk], Whey Protein Concentrate [Milk], Milk Protein Concentrate, Soya Protein Isolate, Flavouring, Coconut Oil Powder (Refined Coconut Oil, Glucose Syrup, Milk Protein, E451, E551), Salt, Sweetener (Sucralose). Allergen Advice:
For allergens, see ingredients in bold.
Produced in a facility that handles Milk, Soy, Egg, and Gluten