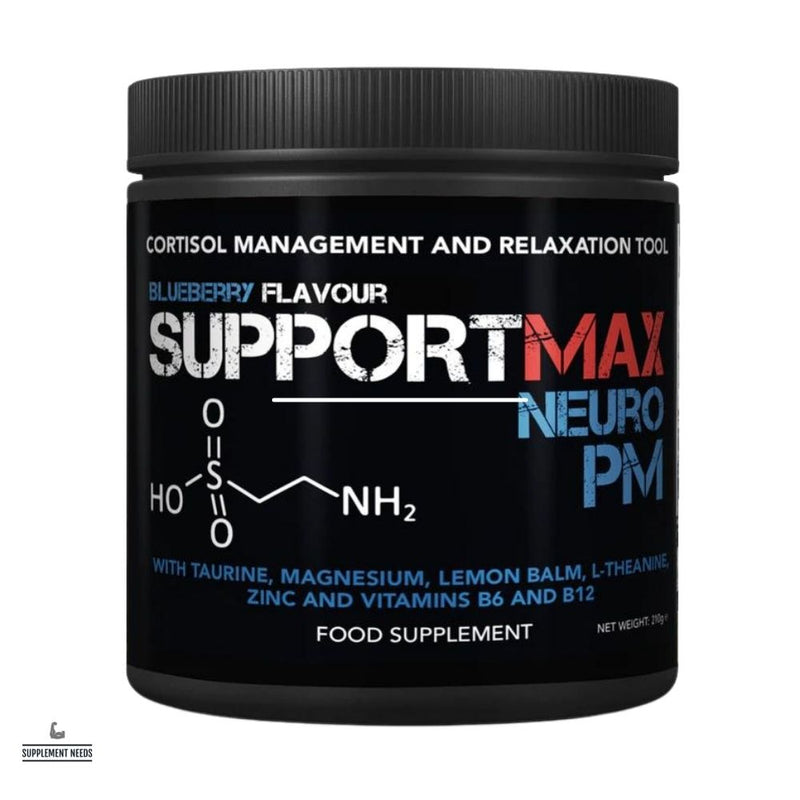 Strom Sports Supportmax Neuro PM - 210g
Description
Strom Sports Nutrition SupportMax Neuro PM is a non-proprietary, fully transparent cortisol and stress management product specifically designed for evening and night time relaxation.
Formulated using KSM-66 Ashwagandha, Phosphatidylserine, Lion's Mane, Lemon Balm, Taurine, Choline, Theanine, Vitamin B6 and B12, and Magnesium and Zinc alongside Black Pepper Extract.
SupportMax Neuro PM can stacked with LipidMax.
Available from Supplement Needs in Mango flavour.
Directions for Use
1 serving (7g) to be mixed with 200-300ml water and consumed 30-60 minutes before bed.
Do not exceed the recommended dose.
Nutritional Information
Size: 210g


Serving Size: 7g
Servings: 30
Per 7g Serving: 
1000mg Choline
1000mg L-Taurine 
800mg KSM66 Ashwagandha
500mg Magnesium
500mg Phosphatidylserine
500mg Lion's Mane (Mushroom)
400mg Lemon Balm
250mg L-Theanine
50mg Vitamin B6
30mg Zinc
10mg Black Pepper Extract

24mcg Vitamin B12