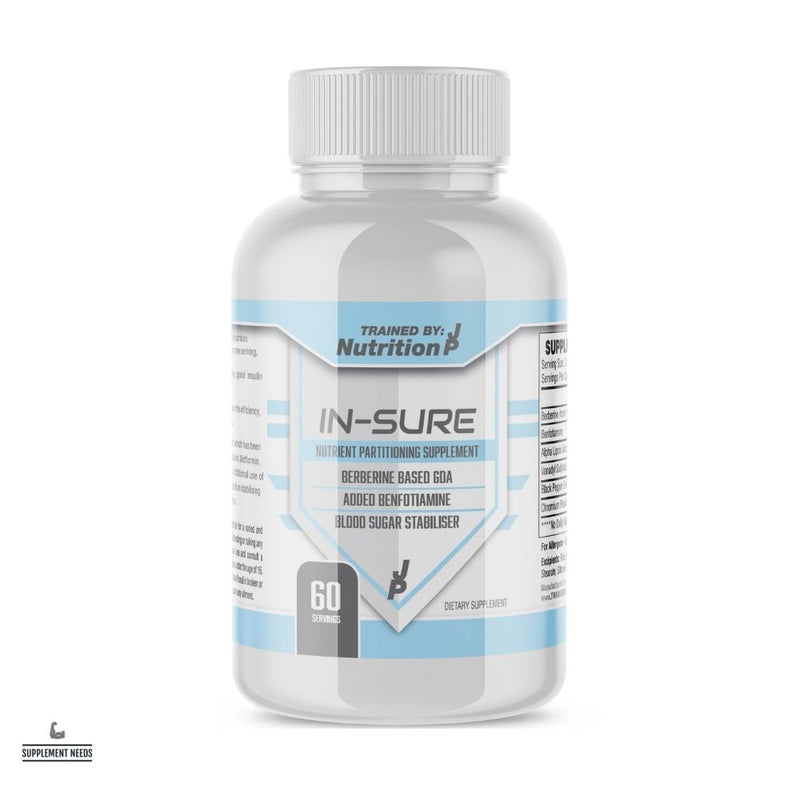 Trained By JP Nutrition In-Sure - 90 Capsules
Description
TrainedbyJP Nutrition In-Sure is a non-proprietary supplement designed to be taken to support daily blood glucose management.
Formulated using Berberine, Bitter Melon, Benfotiamine, Alpha Lipoic Acid, Vanadyl Sulfate, Chromium Picolinate and Black Pepper Extract,
Available from Supplement Needs in a 90 capsule tub.
Directions for Use
1 serving (3 capsules) to be taken daily with a carbohydrate meal of at least 50g.
A second serving may utilised with another carbohydrate meal.
Nutritional Information
Size: 180 Capsules
Serving Size: 3 Capsules 
Servings: 60
Per 3 Capsule Serving:
Berberine (from HCl 97%) - 1000mg
Bitter Melon - 500mg
Benfotiamine - 350mg
Alpha Lipoic Acid - 300mg
Vandal Sulphate 20% - 25mg
Black Pepper Extract - 2mg 
Chromium Picolinate - 500mcg
Other Ingredients: Rice Bran (Bulking Agent), Magnesium Stearate, Silicon Dioxide (Anti Caking Agent)