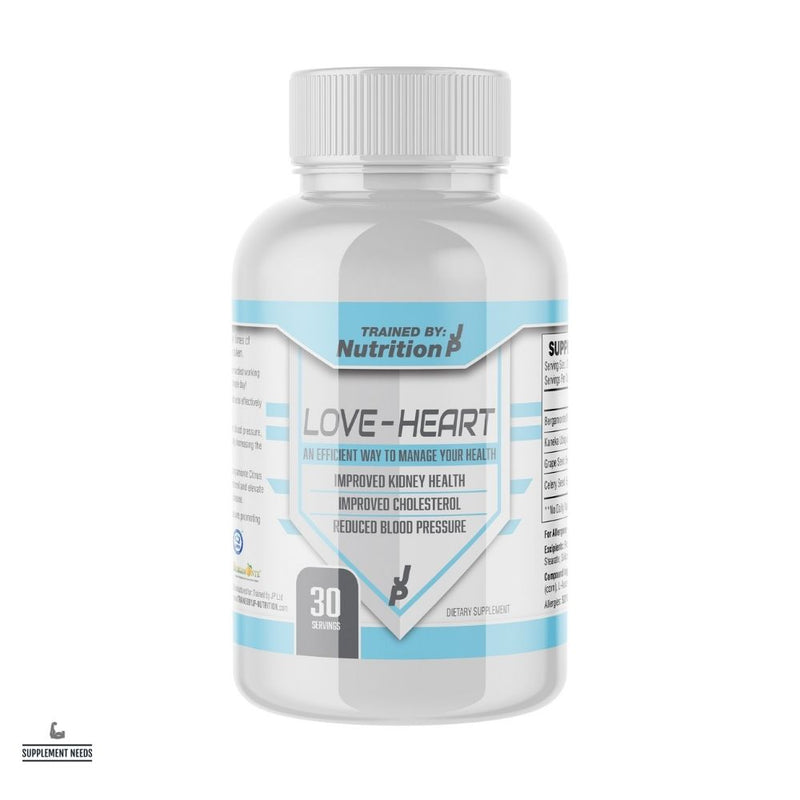 Trained By JP Nutrition Love Heart - 60 Capsules
Description
TrainedbyJP Nutrition Love Heart is a non-proprietary supplement designed to be taken to support your daily health.
Formulated using Bergamonte trademarked Citrus Bergamot, Kaneka Ubiquinol, Grape seed extract and Celery Seed Extract 10:1.
JP Love Heart has been designed to be stacked alongside Cure-Coming.
Available from Supplement Needs in a 60 capsule tub.
Directions for Use
1 serving (2 capsules) to be taken daily.
During periods of systemic stress, a further serving may be taken.
Nutritional Information
Size: 60 Capsules
Serving Size: 2 Capsules 
Servings: 30
Per 2 Capsule Serving:
Bergamonte® Citrus Bergamot - 500mg
Kaneka® Ubiquinol - 200mg
Grape Seed Extract - 400mg
Celery Seed Extract (10:1) - 200mg
Excipients: Rice Bran (Bulking Agent), Magnesium Stearate, Silicon Dioxide, (Anti Caking Agent)
Compound Ingredients: Gum Arabic, Maltodextrin (corn), L-Ascorbic Acid
Allergens: Soya, Celery, Celery Seed