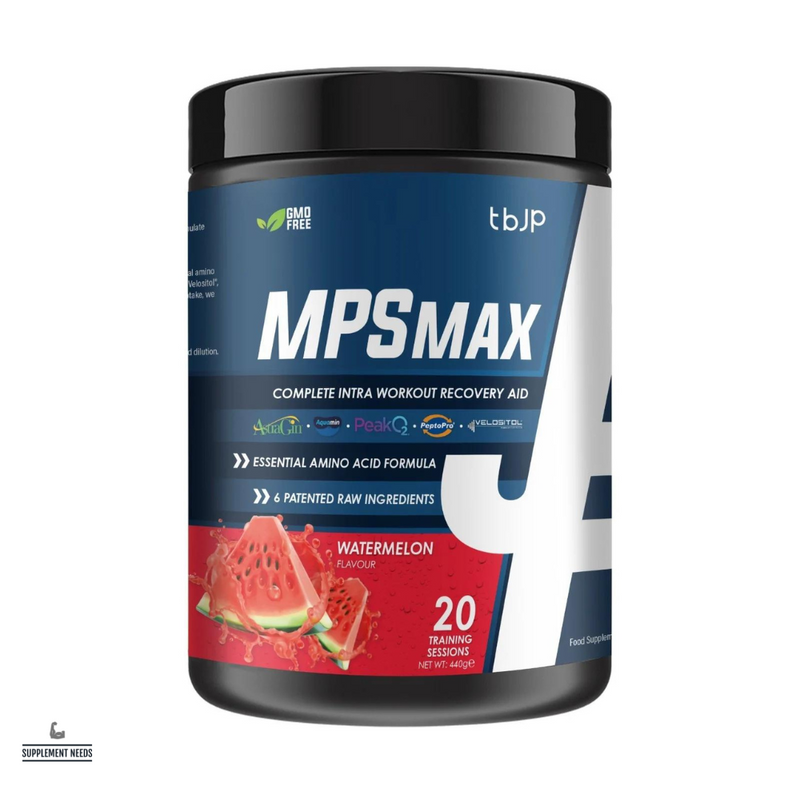 Trained By JP Nutrition MPS Max - 20 Servings
Description
TrainedbyJP Nutrition JP MPS Max is an advanced non-proprietary intra workout supplement designed to be taken during training sessions.
Formulated using 5 patented raw ingredients including PeptoPro, Peak02, Astragin, Aquamin and Velositol alongside a 10g EAA blend and 2.5g Hydrolysed Whey Protein.  
JP MPS Max has been designed to be stacked alongside Performance Fuel; or Sustain Intra to create a productive intra-workout stack.
Available from Supplement Needs in 4 flavours – Sunny Orange, Peach Iced Tea, Watermelon and Mojito.
Dosage
Mix 2 scoops of MPS Max with 250-400ml of cold water to your preference. MPS Max can be utilised at any time, but we recommend it to be used specifically intra-workout
Nutrition
Size: 440g
Serving Size: 2 Scoops (22g)
Servings: 20
Per Serving:
Per 22g Serving:
EAA Blend - 10g
> 4124mg L-Leucine
> 1580mg L-Isoleucine
> 1109mg L-Valine
> 908mg L-Threonine
> 858mg L-Phenylalanine
> 589mg L-Lysine
> 420mg Methionine 
> 354mg L-Histidine
> 58mg L-Tryptophan
PeptoPro - 2500mg
Hydrolysed Whey Protein - 2500mg
Peak 02 - 1000mg
Velositol - 1000mg
Aquamin Mg - 500mg
Aquamin F - 500mg
AstraGin - 50mg
Ingredients: Essential Amino Acid Blend (L- Leucine, L- Isoleucine, L- Valine, L-Threonine, L- Phenylalanine, L-Lysine, L-Methionine, L-Histidine, L-Tryptophan), Pepto Pro® (Hydrolysed Casein) (Milk), Hydrolysed Whey Protein (Milk), Maltodextrin, Acid (Citric Acid), Marine Algae (Aquamin MG, Aquamin F), Peak O2® (Cordyceps, Reishi, King Trumpet, Shiitake and Lion's Mane), Velositol® (Amylopectin Chromium Complex), Flavouring, Trisodium Citrate, Sweetener (Sucralose), Beta Carotene (Colouring), Astragin (Astragalus membranaceus root and Panax notoginseng root).
ALLERGENS: Manufactured in a facility that handles Milk, Soy, Egg and Gluten.
(Based on the flavour Sunny Orange)