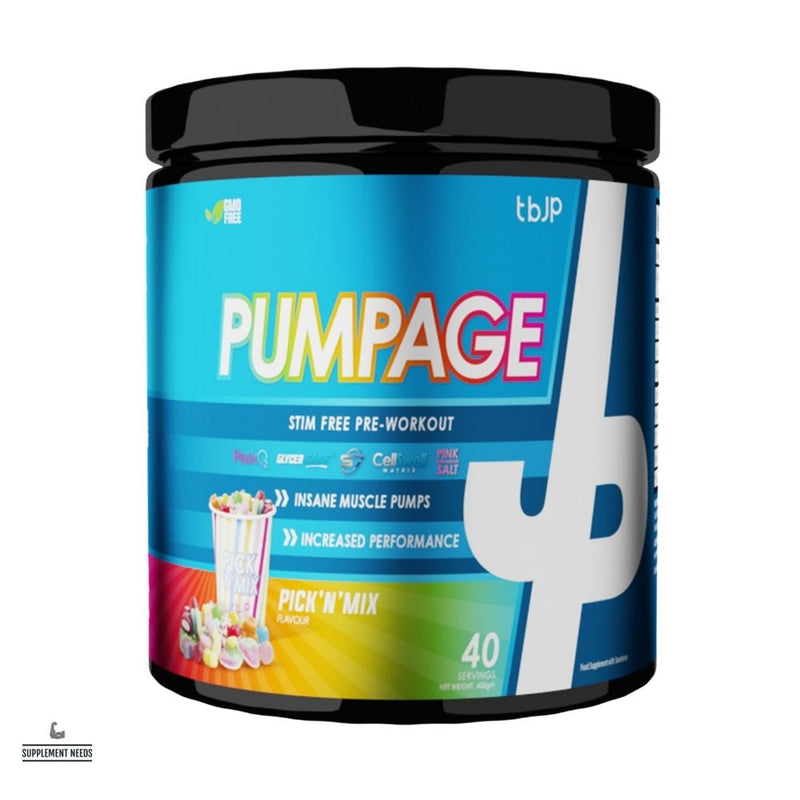 Trained By JP Nutrition Pumpage - 400g
Description
TrainedbyJP Nutrition JPre Pumpage is the newly re-formulated version of the pump based pre-workout Pumpage to incorporate some new trademarked ingredients.
Formulated using L-Citrulline, Glycersize trademarked Glycerol, Taurine, Betaine, Peak 02®, S7® and Himalayan Pink Salt
JPre Pumpage has been designed to be stacked alongside JP Stim 2.0 or Dial-In.
Available from Supplement Needs in 4 flavours – Graped Candy, Iron Brewed, Pick n Mix and Tropical.
Directions for Use
Mix 1 scoop (10g) with 250ml water and consume before training
2 scoops can also be taken. Do not exceed a 2 scoop dose
Nutritional Information
Size: 400g

Serving Size: 1 Scoop (10g)

Servings: 40
Per 10g Serving:
L-Citrulline - 3000mg
Taurine - 1000mg
Glycersize - 2500mg
Betaine - 1000mg
Peak 02® - 1000mg
S7® - 50mg
Himalayan Pink Salt - 250mcg
Ingredients: 
L-Citrulline, Taurine, Glycersize, Betaine, Peak 02®, S7®, Himalayan Pink Salt, flavouring, Colouring, Anti Caking Agent (Silicon Dioxide), Sweetener (Sucralose)
Suitable for vegans and vegetarians