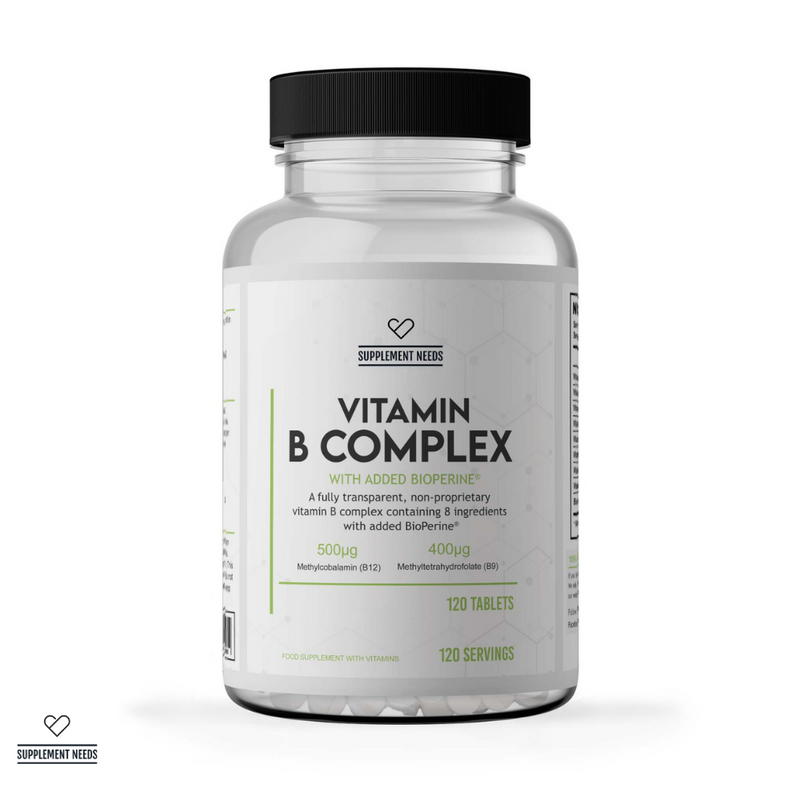 Supplement Needs Advanced Vitamin B Complex - 120 Tabs
Halal Trust Certified
Highly Absorbable Ingredients
ISO / GMP Manufacturing Standard
Description
Vitamin B Complex is a fully transparent, non proprietary product at an efficacious dose as part of the Supplement Needs Health range.
Formulated using eight B Vitamins; including 5-Methyltetrahydrofolate and Methylcobalamin; as well as the Phosphorylated forms of Pyridoxine (Vitamin B6; Pyridoxine-5-Phospahate) and Riboflavin (Vitamin B2; Riboflavin-5-Phosphate); alongside Bioperine black pepper extract.
Vitamin B Complex has been specifically designed to aid in ensuring daily health is optimised.
Available in 120 tablets (60-120 servings).
Directions for Use
Vitamin B Complex is designed to be used during periods when optimal daily health is required.
1 serving (1-2 tablets) to be taken daily with a meal.
Do not exceed the recommended dose.
Ideally, Vitamin B Complex can be stacked alongside Vitamin D3 and K2, PQQ and Liposomal CoQ10.
Suitable for Vegetarians. Suitable for Vegans. Halal certified.
Nutritional Information
Size: 120 tablets
Serving Size: 1 tablet 
Servings: 120 
| | |
| --- | --- |
|   | 1 tablet serving |
| Ingredients | mg |
| Calcium D-Pantothenate (Vitamin B5) | 25 |
| Thiamine HCL (Vitamin B1) | 25 |
| Nicotinic Acid (Vitamin B3) | 25 |
| Riboflavin 5'-phosphate (Vitamin B2) | 10 |
| Pyridoxal 5'-Phosphate (Vitamin B6) | 10 |
| BioPerine (Black Pepper Extract (from Piper Nigrum)) | 2 |
| D-Biotin (Vitamin B7) | 0.5 |
| Methylcobalamin (Vitamin B12) | 0.5 |
| L-5-Methyltetrahydrofolate Calcium (Vitamin B9) | 0.4 |
| Magnesium Stearate |   |
| Di Calcium Phosphate |   |