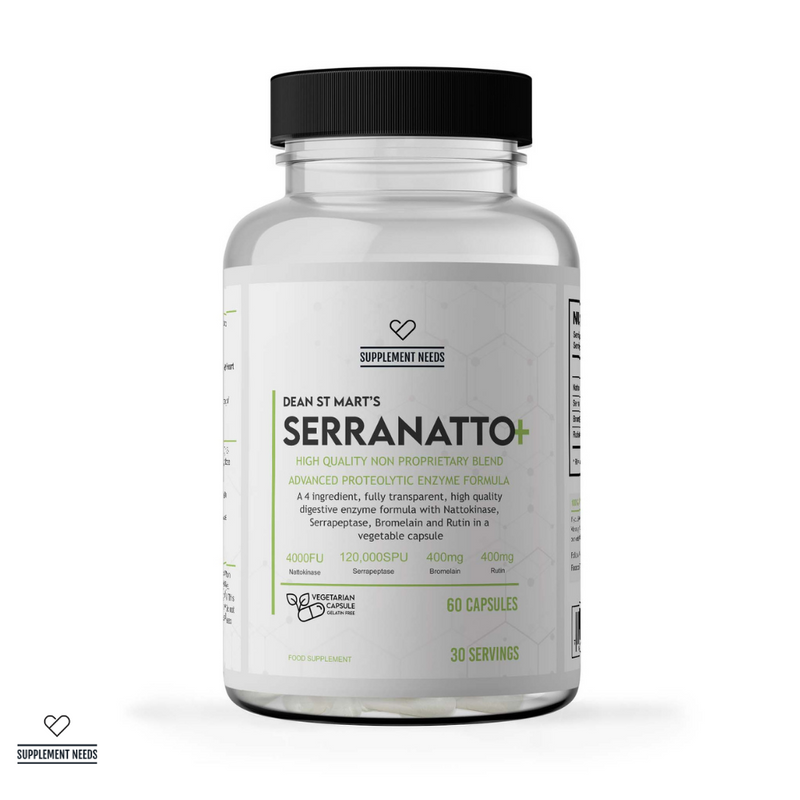 Supplement Needs SerraNatto+ - 60 Capsules
Halal Trust Certified
4000 FU Nattokinase
1000 GDU Bromelain
Proteolytic Enzyme Formula
ISO / GMP Manufacturing Standard
Description
SerraNatto+ is a fully transparent, non proprietary product containing 4 ingredients at efficacious doses as part of the Supplement Needs Dean St Mart Health range.
Formulated by Dr Dean St Mart PhD using Serrapeptase, Nattokinase and Bromelain, these 3 are known as proteolytic enzymes (enzymes which break down proteins); having possible effects on proteins and polypeptides such as fibrin (component of scar tissue) and promoting plasmin which breaks down thrombi (clots) in the body.
The 4th ingredient Rutin is a glycoside of Quercetin and Rutinose, of which both molecules contribute to C-V health.
SerraNatto+ has been specifically designed to be stacked alongside Heart Stack and Lipid Pro+ to create a fully comprehensive trifecta stack for C-V health.
Directions for Use
SerraNatto+ is designed to be used during brief periods when proteolytic enzyme support is required.
1 serving (2 capsules) is to be taken on an empty stomach.
Do not exceed the recommended dose.
Ideally, SerraNatto+ can be stacked alongside the A.M serving of Heart Stack.
Additionally, SerraNatto+ can also be stacked during periodic use of Lipid Pro+ throughout the year.
Suitable for Vegetarians. Suitable for Vegans. Halal Certified.
This product is manufactured in a facility that processes products containing nuts, milk, soy and fish
Nutritional Information
Size: 60 Capsules 
Serving Size: 2 capsules
Servings: 30
| | |
| --- | --- |
|   | 2 capsule serving |
| Ingredients | mg |
| Nattokinase | 4000 FU (Fibrinolytic Units) |
| Serrapeptase | 120,000 SPU (serrapeptase unit) |
| Bromelain 2500 GDU/G | 400 |
| Rutin (Quercetin-3-rutinoside) | 400 |
| Rice flour |   |
| Magnesium Stearate |   |
| Hypromellose Vegetable Capsule |   |
SN Education

Want to learn more ?